*Steve Makris is a technology expert who does a Tech Talk segment during Edmonton's Sunday Morning News.
Tune in to the Sunday Morning News Tech Talk segment for a chance to win the TomTom Bandit action cam with cool accessories!
Say hello to the TomTom Bandit, $500, an action cam with built-in smarts to pick your best clips and assemble a video.
Imagine posting a video online just minutes after an action cross-country bike ride, a wedding, or a wild ride on an aerobatics plane.
Compared to transferring hour-long GoPro videos to a laptop for editing, the Bandit marks your best video moments using gyro, accelerometer, GPS, and optional wireless heart monitor sensors.
Story continues below advertisement
This means speed, G-force, altitude, rotation, and your fastest heartbeat moments hint at your best video moments. But even a boring one-hour recording from my car windshield in a small nearby town showed automatically selected highlights of folks walking in camera view or cars passing by. Impressive.
After a video shoot, shake your WiFi wirelessly-connected iPhone or Android smartphone, running the free TomTom Bandit app to re-arrange those onscreen highlights for a short one-minute video you can share on most social or online storage sites. Shake again for another set of highlights. Nice!
You can even select more highlights and choose which ones to include, or exclude, in your final video. The more highlights, the longer the video. Each project is saved on your phone, while the original video stays in your Bandit for later transfer. You can also manually tag favourite moments while shooting by pressing the record button.
Film making never gets easier!
Story continues below advertisement
There are no fancy transition effects other than substituting the stereo-recorded audio with a soundtrack. By manually choosing more highlights in a short section of the video, I found I could pick the right clips so the changing audio at a wedding, for example, would blend nicely between video snippets.
The tubular-shaped Bandit is easy to grasp and slightly larger, but noticeably heavier than the GoPro in its protective case. The record/manual highlight and stop buttons are placed on opposite ends of the Bandit, to prevent you from accidentally stopping a recording.
Unlike the GoPro's handy tiny colour screen, the Bandit only has an onboard menu screen to navigate between settings. You need a WiFi-connected smartphone to see what you are shooting or to run the camera from afar.
It can shoot time lapse, 1080p 30 FPS or 4k30 (Capture at 1/s, 1/5s, 1/10s, 1/15s, 1/30s, 1/60s) or slow motion 1080p half speed, 720P at one quarter speed WVGA at a sixth the speed.
Story continues below advertisement
But you can still pick up the Bandit and shoot blind by pointing it where you want.
An optional small remote starts and stops recording if the Bandit is mounted on your helmet or bike. It comes with a GoPro converter so you can share your previous accessory investment. Its simple mount allows for easily rotating the camera (horizontally) when on your helmet. It might seem flimsy but worked fine under 6G pressures on Bill Carter's aerobatics plane.
There are some quality and option differences between the GoPro and the new kid on the block from The Netherlands.
Story continues below advertisementTrending Stories
These are small differences for most users, and they will go unnoticed when you can publish your edited videos in minutes and feel like a YouTube pro, even a "hero" on the fast track!
Story continues below advertisement
The bottom line? The TomTom Bandit is a winner and a great action companion to your iPhone or Android phone.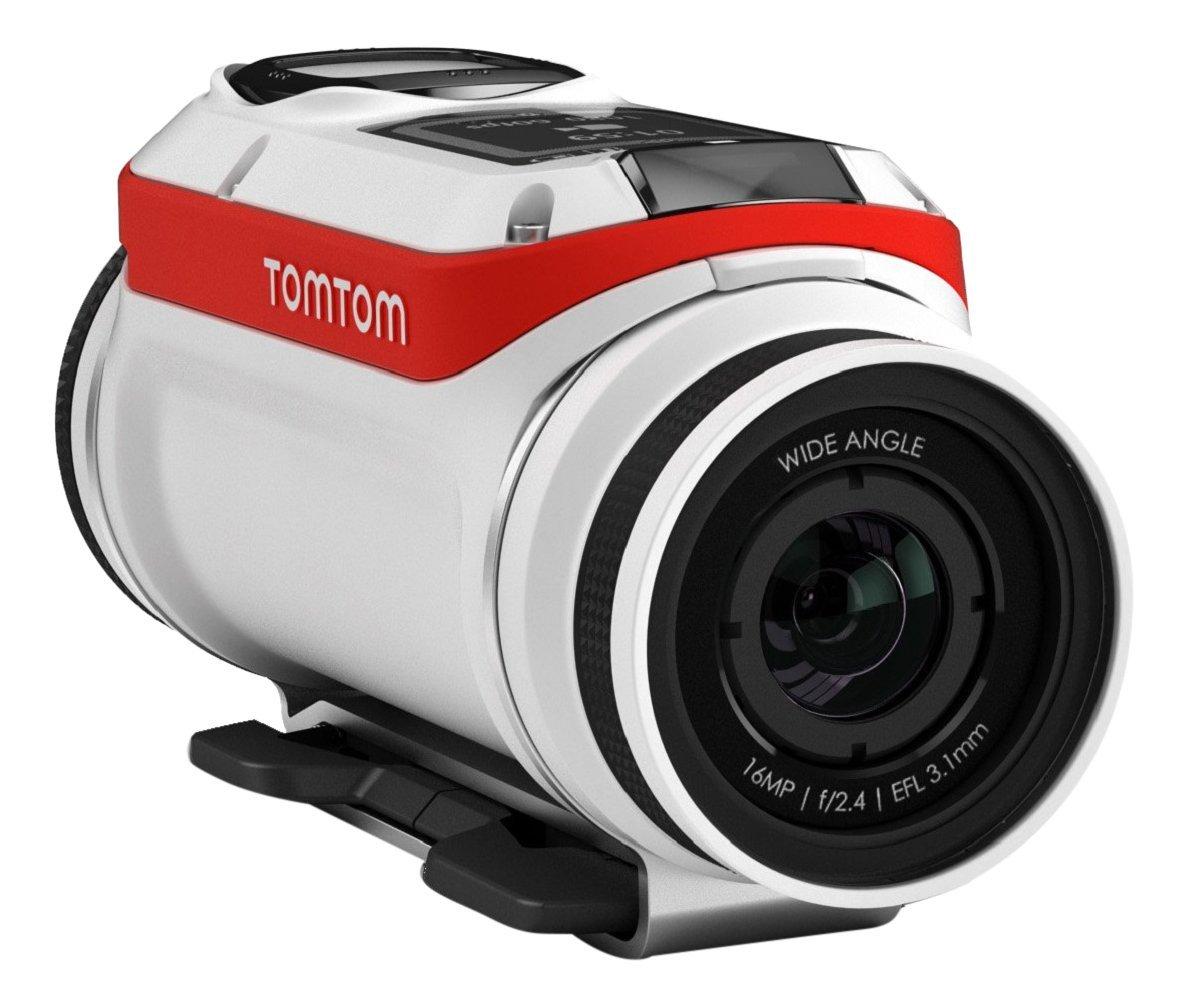 Ever grumble that printer manufacturers have a licence to print money when they sell you a cheap printer that requires frequent injections of cash in the form of many orders for tiny but costly ink cartridges?
Well, check this out—Epson has a new deal on ink that seems too good to be true. Five new Epson Tank inkjet printer models arriving in stores now come with enough black, cyan, yellow and magenta ink to last for two years.
The cost of all that prepaid ink is much cheaper than standard ink cartridge replacements – averaging one fifth the cost.
Story continues below advertisement
The trade-off? You will never run out of ink, but you will pay $459.99 for the cheapest Epson Expression ET-2500 EcoTank all-in-one printer, a $90 printer. Also, your printer will take up a bit more space; it has an extended base to accommodate the four larger bottles of ink.
Five EcoTank models are available. The high-end Epson EcoPack small business models come equipped with ink packs that allow users to print up to 20,000 pages.
Let's do the math. The starter Epson Expression ET-2500 EcoTank all-in-one, $459.99 (London Drugs, Staples) gets you a $99 Epson home starter printer, while the additional $361 covers the included four full ink tanks. That's equivalent to 20 ink cartridges for printing up to 4,000 black/6,500 colour pages. That works out to $18 a cartridge set instead of $70.
Similarly, the four-in-one loaded ET-4550 model, $599.99, I showed on my Sunday Morning News tech segment, costs work out to one sixth the ink cost to traditional ink cartridges.
Here are Canadian prices on the Epson EcoTank line:
For folks who might only need one or two additional ink cartridge replacements a year, HP Canada's expanded Instant Ink replacement service for new HP ENVY, OfficeJet and DeskJet printers are based on monthly or yearly subscriptions on how much ink you will need. Starting at $3.99 a month, with up to 50 per cent savings on ink, the included smart cartridges in these new printers know when you need more ink and automatically order ink, delivered to your door. One and two-year plans for the HP OfficeJet 5741 and HP OfficeJet 5743 start at $199 USD.
Story continues below advertisement
Epson EcoTank printers are not for those who only buy one or two additional cartridges a year. But if you and your extended family, or SMB, need cheap brand ink, you can finally get your revenge on the ink industry. For the cost of about five Epson full cartridge sets, you get 15 more for free on the EPSON EcoTank deal.
With this week's unveiling of Apple's newest iPhone 6s and 6s Plus, and recent Samsung rollout of the S5 Note and S6 edge+, smartphone prices are skyrocketing past $1,000. Both brand's new phones come with fixed storage capacity, bumping up starting prices in $100 – $130 increments for more memory. Samsung wisely starts its S6 series at 32 GB, while Apple's 16 GB startup model of the new 4K video iPhone 6s has become a sore point for buyers.
In contrast, a new wave of affordable smartphones is arriving in Canada, some with outright purchase prices cheaper than the two-year down payment plan of Samsung's and Apple's best.
What's the difference? Style and name, with some performance factors. Yes, it feels good to have the coolest hot phone but in a two-year phone courtship even today's hot models become has-beens when new ones are out. Was your hard-earned money worth spending on the best?
Much is the same in phones, if you think about it. Not all are perfect and each has its strengths. iPhones have material, quality and non-cluttered functionality, while Samsungs have the most amazing screen viewing experience and of course, bend glass screen edges.
Story continues below advertisement
One smartphone, however, comes to mind for being unique and the most functional. The fifth-generation Samsung Note 5 with S Pen stylus, built with the looks and feel of the S6 phones, continues to have the highest satisfaction rate than any phone. Being able to jot pencil-like handwritten notes onscreen that can easily become recognized in different applications, including contacts and browsing, makes the Note series the Swiss Army Knife or smartphones.
Apple iPhones and Samsung Galaxy S6 and Note 5 phones have metal and glass finish. They are thin with workmanship thought impossible a few years ago. You simply like to hold them because they feel and look so nice, not to mention the technology they come packed with.
They have the fastest processors and newest cameras with additional customized apps.
The new wave of competitor's phones use more plastic. Although some are stylish, they actually are more functional. The 21 MP Moto X Play is likely to be dropped a lot less than a more stylish glass and metal phone. The X Play ,with clever external micro SD expansion and SIM card slot card it sibling Moto 360, can be abused with featured water-proofing. Both are available with Bell Mobility, Koodo, TELUS and SaskTel.
Story continues below advertisement
The Acer Liquid Jade Z and Liquid Z410 are loaded with features, and yes, a stepdown on screen resolution, but come unlocked and will work with any carrier.
The Asus Zenfone 2 with 4 GB RAM, 64 GB storage and Intel Atom processor has amazing ongoing software and update support. It too comes unlocked and available at Memory Express for $379.
Story continues below advertisement
Check out my personal blog for the newest smartphones announced at IFA Berlin 2015 and the recent Apple TV, iPad Pro and iPhone 6s announcements.