Stickersby Jas Keimig• Jan 21, 2022 at 10:05 amTweet

"Making Seattle Shitty Is a Full-Time Job"

I've said it before and I'll say it again, this guy blows.JKSeattle's street-sticker prophets would like to remind the city, and probably particularly the cranks at the Seattle Times Editorial Board, that it's not anarchists on Twitter or the unhoused or Kshama Sawant making Seattle shitty—it's Mr. B! The dude who dodges taxes, treats his workers like garbage, and looks like a Getty Image stock photo of a villain. Fun fact: I spotted this billionaire at a swanky restaurant on Capitol Hill recently and almost pooped my pants. That dude def sees all these stickers that dunk on him.SponsoredSeattle Opera presents: The Marriage of Figaro at McCaw Hall Count and servant go head-to-head in a traditional production of Mozart's beloved farce, May 7–22.

"Reactionary Recall Rejected"

Ho, ho, ho, bitch.JKEven SANTA was against the Sawant Recall! But I guess he's a gift-communist so it makes sense?

"You Are Trans, Too"

Don't tell the gender critical!JKSpotted downtown on Olive Way.

"Kick Cops & Corporations Out of Pride"

They don't belong. JKGay shame is a virus.

"Trapjaw"

Took me several tries to get this picture.JKMostly including this here to remind myself that I need to watch Zardoz:

"Honor Your Boundaries"

Me to me.JKPretty sure I saw this one on Capitol Hill

"He'll Be Back"

Lol, ok. JKSaw this one right next to a "Let's Go Brandon" sticker in Belltown. Trump supporters are among us!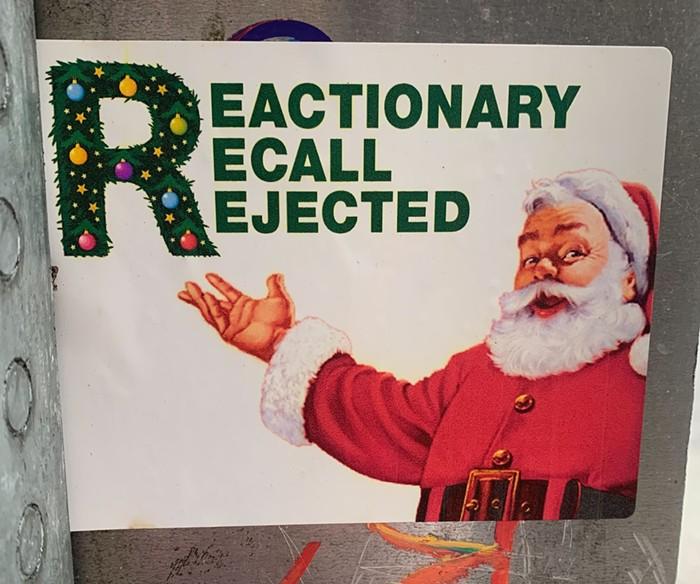 "Furries Rise Up"

Spotted near Elliott Bay Books I think. JKI reached out to The Stranger's resident furry expert Matt Baume about what "#DrinktheWater" could possibly mean. He says he thinks it might be part of a viral marketing campaign for Dorian Electra's "My Agenda," which features furries drinking water and some giant posters urging people to "Drink the Water." Thanks KumSkum!

"I Closed Wolski's"

I love stickers like these.JKOk, apparently a lot of Milwaukeeans have never actually closed Wolski's. This OnMilwaukee article tries to get to the bottom of it. I'm obsessed with this quote:"I've closed just about every bar in Milwaukee, but never Wolski's," says [OnMilwaukee contributor Dave] Begel. "And the reason is simple: the roads around there are so confusing that I figured if I closed it — which would mean I was pretty drunk — I might never get home and my wife would be even more pissed than normal. I mean you could just go in circles around there and never get out."

"/remindme"

Yes. JKHope you have a good weekend :)

As always, if any of these stickers belong to you, please e-mail me at jkeimig@thestranger.com.

SponsoredAnnual Seattle Erotic Art Festival and Pan Eros Film Festival at Seattle Center April 29 – May 1! An unforgettable weekend of art, film, performance, readings, dance parties, and more!The Stranger depends on your continuing support to provide articles like this one. In return, we pledge our ongoing commitment to truthful, progressive journalism and serving our community. So if you're able, please consider a small recurring contribution. Thank you—you are appreciated!CONTRIBUTE NOW

Jas Keimig is a staff writer at The Stranger, where they cover visual art, film, stickers, and culture.

FollowEmailMore articles
Jas Keimig
Jas Keimig is a staff writer at The Stranger, where they cover visual art, film, stickers, and culture.

FollowEmailMore articles
You might also be interested in these:
by Rich Smithby Jas Keimig by Gregory Scruggs

All contents © Index Newspapers LLC800 Maynard Ave S, Suite 200, Seattle, WA 98134

Contact|Privacy Policy|Terms of Use|Takedown Policy

All contents © Index Newspapers LLC800 Maynard Ave S, Suite 200, Seattle, WA 98134

Contact |Privacy Policy |Terms of Use |Takedown Policy