MERIDEN — The STEM for All program, offered by the Boys and Girls Club of Meriden and launched in the fall, aims to expose students of all backgrounds to skills that can lead to a lifelong career.
Milt Coon, director of resource development, explained the Boys and Girls Club of Meriden provides the Science, Technology, Engineering and Mathematics program as an extracurricular activity, including a competitive robotics team. The organization also has STEM summer camp programs.
Through research, Coon found that nationally, people of color, particularly females of color, are "extremely under-represented" in careers involving technology and in college coursework oriented towards science.
That's why the Boys and Girls Club wants to ensure every child, regardless of background, gets a "deep dive" into the sciences with "consistent, prolonged and expert exposure," Coon said.
The STEM activities the club is trying to teach are designed to be fun and engaging to help create the lifelong learners that companies and corporations are looking for, Coon noted.
When we asked if he has seen a change in the mindset of the children involved in the program, he said "absolutely."
On Tuesday afternoon, students were learning how to use Computer-Aided Design, a software that replaces manual drafting and is used by engineers, architects and construction managers.
Ryan Capozziello, STEM specialist intern and engineering student at the University of New Haven, was teaching students to use the software.
He was working with the students at the Club's 3D printing center. Students first worked on a tutorial about the CAD software. Then, they used the software to design something to print using a 3D machine.
Previously, Capozziello did a virus transmission demonstration with the STEM students.
The idea was to show children how viruses form.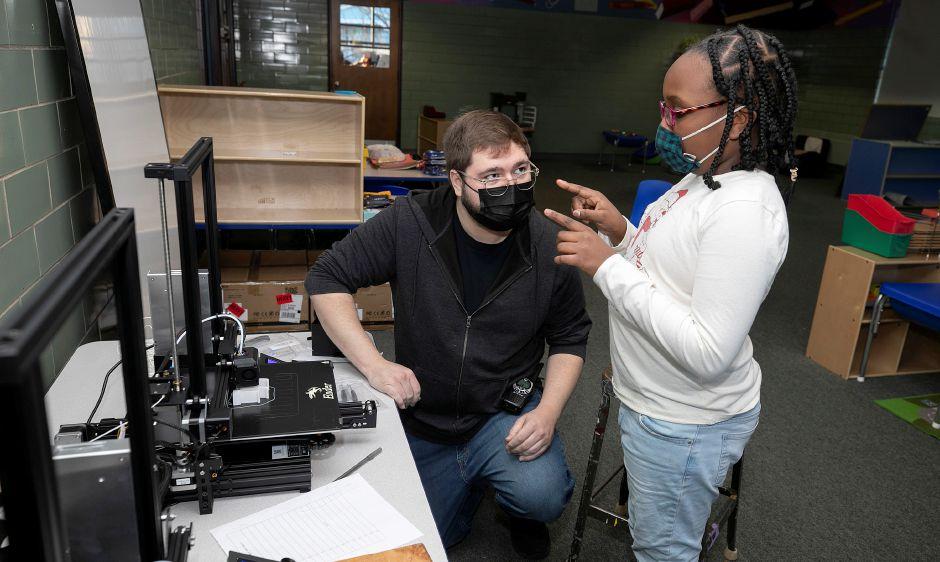 "Got a lot of good reactions, a very loud room," he said. "A lot of people were very excited to see the testing part."
Most students in Tuesday class had one thing in common, they were curious about the 3D printing process.
Nas'ir Flores, 9, said he joined the program because he was interested in learning about 3D printing.
On Tuesday, he was using the Computer-Aided Design software to design a transformer to later print.
Flores said he was enjoying the class because the 3D printing process is "fun" and Capozziello is a "great guy."
Evalyse Moya, 10, was in the 3D printing class for the first time on Tuesday. She joined because she was interested in learning computer software. On Tuesday she was going through the tutorial, but her hope was to design a SpongeBob figure and print it.
For Kody Trejo, 11, designing and 3D printing was also something he wanted to try out. Tuesday he was going through the tutorial but he hoped to make a dragon. He said when he's older, he wants to go to school to learn life model design.
Ni Michaud, 9, also joined the class because he was interested in 3D printing. Although he did not know what he was going to design, he was looking forward to the printing.
"This is pretty fun," he said.
When Xilette Rose, 11, found out the club was teaching 3D printing, she was eager to join. She is also involved in the club's robotics activities.
Future activities include botanical and bridge-building projects.
The club offers STEM activities at least once a week.
The Boys and Girls Club of Meriden is located at 15 Lincoln St. Visit www.bgcmeriden.org or call 203-235-8185.
ksantos@record-journal.com203-317-2364Twitter: @KarlaSantosNews