Q. The Fios box in our house is once again beeping every 15 minutes because the backup battery needs to be replaced. Is there any way to silence that thing?
A. There is, and it's a little counterintuitive: If you disconnect the battery, the Fios "battery backup unit" should stop nagging you about replacing it.
That's "should" but not "will," because the answer depends on the age of the Fios hardware in question, Verizon spokesman Harry Mitchell explained. If yours was installed after March 2013, it's already programmed to silence the battery-replacement alarm if you pull the battery.
With an older unit, Mitchell's advice was to experiment: "Try pulling the battery; it won't harm anything and, if the alarm goes quiet, it's problem solved."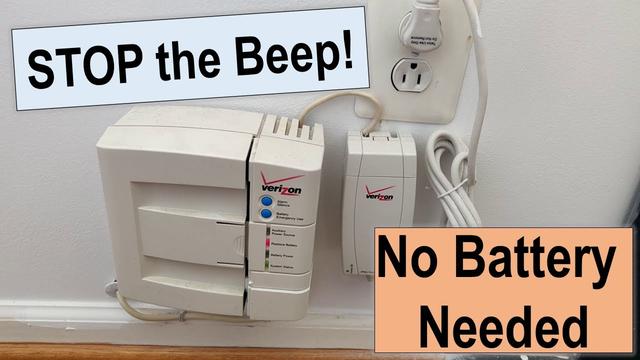 I did just that with the 2010-vintage box in our basement, and the result was silence.
If you get a different result and your Fios installation is as old or as older as mine, you should try asking Verizon for a replacement battery-backup unit. Mitchell said Verizon will replace "early-generation" backup devices at no charge.
This situation results from Verizon's decision early on to ensure that subscribers to its fiber-optic broadband service could still use corded phones for the first several hours of a power outage. With Fios, as with cable-based phone service, your calling service no longer comes over a copper wire to the nearest "central office" and so can't get electricity from it.
To provide that reserve power, Fios boxes have long included the battery backup unit and its 12-volt lead-acid battery. A tech-support note says that this battery usually lasts "between 2 and 4 years, depending on the average temperature of the environment."
Ours made it through four years in a cool, dry corner of the basement, and then I needed a day or two to pin down the mysterious beep we kept hearing every 15 minutes. Not wanting to pay Verizon's $39.99 list price for a replacement, I bought a $24 battery off Amazon--which did not last a year.
And because this site plugs into the databases of the major cable operators, it can even tell you what services are currently active at an address. But it won't show DSL or fiber-optic broadband, and some smaller cable operators don't appear in its results either. For example, Go2Broadband reported that a Washington, D.C., address where RCN offers cable Internet could only get service from Comcast.
Rob Pegoraro is a tech writer based out of Washington, D.C. To submit a tech question, e-mail Rob at rob@robpegoraro.com. Follow him on Twitter at twitter.com/robpegoraro.