The router is an update to theAirStation Extreme WZR-1750DHPD , and it's the second router from Buffalo I've seen that comes preloaded with DD-WRT open-source firmware. However, unlike its feature-rich older brother, the new WXR-1900DHPD is spartan, unintuitive and includes many non-working parts, such as its USB ports.
This is likely because it uses the new NXT build and not the traditional version of DD-WRT. To add insult to injury, the $200 router is about $30 more expensive than the previous WZR-1750DHPD's launch price, making it one of the most expensive AC1900 routers on the market. UK and Australian prices have yet to be announced, but $200 converts to around £125 or AU$255.
(Note that Buffalo also offers theWXR-1900DHP, a router with the exact same hardware but which comeswith Buffalo's regular stock firmware, for $170. According to Buffalo,you can flash this router with the DD-WRT NXT firmware used in the WXR-1900DHPD if you have the skill to do so.)
That said, the WXR-1900DHPD's Wi-Fi data rates were quite fast in my testing, on par with those of other AC1900 models. Its range wasn't the best, but to make up for that it had stable Wi-Fi signals, operating for days on end without disconnecting at all.
In all, the the WXR-1900DHPD has potential and might make a great router in the future when the DD-WRT NXT firmware is further developed. For now, it's either just too expensive for a simple router, or is too lacking in features to be qualified as a high-end router. You should wait for the price to come down, or just go with a better option from this list of top 802.11ac routers on the market.
The WXR-1900DHPD looks great. It comes in all white and is designed to stand vertically on a detachable stand. On one side, it has a little cover that opens up to reveal some mounting grooves, should you want to hang it on a wall. Under this cover, you'll also find the default settings that allow you to use the router right away, as well as log into its interface to further customize it.
The router comes with the regular 4-Gigabit LAN port (for wired clients) and 1-Gigabit WAN port (to connect to an Internet source, such as a cable modem) on its back. It also has two USB ports: one USB 2.0 on the back and one USB 3.0 on the front. As mentioned earlier, these ports don't work with the current version of the NXT firmware. Buffalo says they might be more useful in the future when USB-related functions are added to the next DD-WRT NXT build.
Another nonfunctional feature is the little switch under the router that supposedly changes its role from a router (default), to an access point and also to a media bridge. In my testing, regardless of this switch's position, the Buffalo always worked as a router.
On the front, the router has an array of LED lights that show the status of the Internet connection, the Wi-Fi signals and the router as a whole. There's also a button labeled AOSS. Normally, on other Buffalo routers, this button helps to quickly connect a Buffalo Wi-Fi device to the router's Wi-Fi network. However, as we've already experienced with other features of the WXR-1900DHPD, this button doesn't do anything, at least for now.
As a Wi-Fi router, the new Buffalo is a true dual-band router that has a top speed on the 5GHz band of 1,300Mbps and on the 2.4GHz band of 600Mbps, which qualify it as an AC1900 router. (Read more about Wi-Fi standards here.) As with all Wi-Fi routers in this class, the real-world speeds are always much slower, however. Nonetheless, the router supports all existing Wi-Fi clients on the market, and you need compatible clients to achieve its top wireless speed.
Out of the box, the WXR-1900DHPD can begin working right away if you use its default settings. All you have to do is plug the router's WAN port into an Internet source like a modem, turn it on, and you're good to go.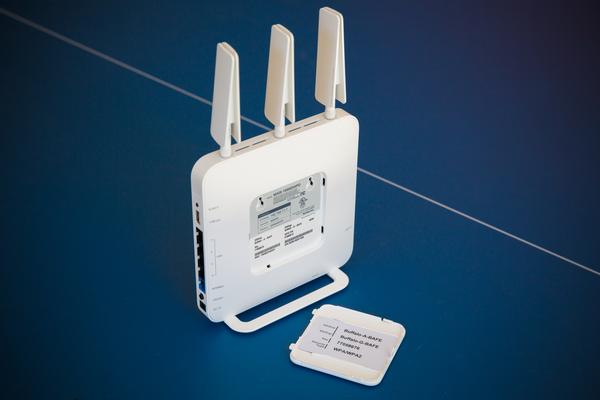 If you want to customize this network or any other features of the router, you'll need to access its Web interface. To do this, point a browser on a connected computer to the router's default IP address (which is 192.168.11.1) and log in with the default password, which is password. Now you will be greeted with the all-new DD-WRT NXT interface, which I found to be both well organized and responsive.
DD-WRTis a well-known Linux-based open-source firmware forwireless routers and access points. The firmware unlocks all of the supported routers' hardware potential. While the traditional DD-WRT offers a comprehensive set of features and controls, the new DD-WRT NXT doesn't. In fact, I found it rather lacking and disappointing, at least in the case of the Buffalo.
For one, it's awkward to use when you want to change settings or customize features. You can't view the clients that are currently connected to the router, for example, and if you want to add a client to the IP reservation list (which is necessary if you want to designate one as a server for any service), you will first need to find out its MAC address and then enter it manually. This is a pain. With other routers, it can be done with just a few clicks.
The interface also lacks the depth for customization. Most of the settings and features can only be turned on or off without the ability to set any further perimeters. The router's few main features, such as Quality of Control, VPN servers, Mac filtering and so on are either also lacking in the ability to be customized, or require you to know a lot about networking to make them work.
I couldn't even find a way to restart the router using the interface. And since many changes will only apply once the router has been restarted, this means I couldn't manage it remotely.
Overall, if you just want to use the router with its default settings, you will have no problem. But if you want to further customize your network to the max, which is the only reason you'd want a router with open-source firmware to begin with, you'll be disappointed. I certainly was.
The WXR-1900DHPD didn't blow me away with its performance, but it did quite well nonetheless. On the 5GHz band, it registered a sustained real-world Wi-Fi speed of close to 350Mbps at close range. When I increased the distance to 100 feet, it still averaged close to 220Mbps. These are both about average among Ac1900 routers and fast enough for most Internet-base activities including high-def movie streaming.
On the 2.4GHz band, it scored faster than 130Mbps and nearly 60Mbps for close and long range, respectively, also about average fora router in this class.
The router's range wasn't the best I've seen, with an effective range of around 160 feet. However, it showed excellent signal stability on both bands. I directed it to transfer large amounts of data between multiple clients for more than three straight days, and it didn't disconnect even once during this time.
Note that I tested the router at CNET's offices, where there are wallsand many other Wi-Fi devices that are out of my control. Generally, wallsshorten the reach of a Wi-Fi signal, and other Wi-Fi devices createinterference. As with all Wi-Fi routers, your results may vary dependingon where you live.
I was excited to review the Buffalo AirStation Extreme AC1900 WXR-1900DHPD router but was disappointed by its currently deficient DD-WRT NXT firmware. In fact, the firmware is in such an early stage of development that it actually crippled the router instead of enhancing it. And the high $200 price tag makes it incredibly difficult to recommend to anyone at all.
Pricing aside, the Buffalo is a stable router for those who don't care about the USB-related features -- which currently don't work anyway. But the truth is, there are just so many other choices, such as the Asus RT-AC68U, or the Trendnet TEW-818DRU, which give you everything the Buffalo does, and more, for cheaper. In fact, the version of the Buffalo router with stock firmware goes for about $30 less and will likely include more functionality.
In all, though the DD-WRT NXT might sound like an appealing novelty, the Buffalo AirStation Extreme AC1900 WXR-1900DHPD is just too expensive to be worth the investment.