Refinement is the order of the day with Canon's new color inkjet multifunction, the $199 (as of 12/04/2012) Pixma MG6320 Wireless Inkjet Photo All-In-One. While still sporting the familiar, beveled Canon silhouette, the new design and controls put the Pixma MG6320's predecessors to shame in terms of ease of use. A six-ink printing system provides nice color quality, but ink costs are a little pricier than average overall.
Setting up the Pixma MG6320 is easy on both the Windows PC and Mac OS platforms, though you must add the printer manually on the latter. The unit sports USB, Wi-Fi, and Ethernet so you can use it in virtually any networking environment. Canon provides a capable bundle of software for this combination printer, scanner, and copier, including scanning software as well as the now-standard array of Web- and email-based printing options. The driver is top-notch as well.
Missing from the Pixma MG6320 are the three "action" buttons found on some previous models, whose functions can overlap confusingly with the OK button. You may now operate the Pixma MG6320 using its contextually lit controls and 3.5-inch touchscreen without constantly having to reach for said redundant buttons–a far more efficient and intuitive experience. It's also easier to access inks: You simply flip up the top front panel, not the entire top of the unit as with most multifunctions.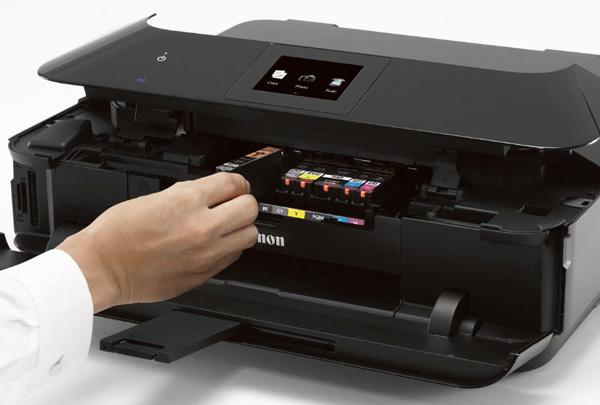 Paper handling on the Pixma MG6320 has improved as much as the controls. Loading paper is easy with the front slideout trays: a 125-sheet, letter/legal main tray, and nestled above it, a 20-sheet photo tray (4-by-6-inch maximum media size). Gone is the rear vertical feed of the previous model, which reduces total paper capacity but allows the printer to snuggle right up to the wall, saving space. Also, instead of a door that folds open for output, the entire front of the unit folds down and the paper catch extends automatically. This open bay also reveals the unit's Secure Digital/Memory Stick and Compact Flash card slots. Duplex printing is automatic, but the letter/A4 flatbed scanner lacks an automatic document feeder (ADF) for longer documents. The scanner lid telescopes to accommodate thicker materials.
The Pixma MG6320 uses a six- instead of four-ink system: cyan, magenta, yellow and black, plus a photo black and a photo gray. Using standard supplies, black pages cost a reasonable 5 cents per page, but the other colors are pricier than average. A page with just the usual cyan, magenta, yellow, and black already costs a high 16.6 cpp; adding photo black and photo gray would elevate the cost to 19.2 cents. The high-yield inks offer some savings–4.6 cents per page for black, 12.7 cents for four colors, and 13.6 cents for all six colors—but are a little pricier than the high-yield supplies from other products we've tested.
The black output produced by the Pixma MG6320 is dark and sharp at default settings and even crisper at the best quality setting. The color output looks orangeish on plain paper, but crisp and accurate, if a bit cool, on Canon's own photo paper. Copies and scans are quite nice as well.
The performance of the Pixma MG6320 is quite good for a multifunction with an artistic bent. In our tests, monochrome pages print faster than average at 8.4 pages per minute (ppm) on the PC and 7.7 ppm on the Mac. Photo speeds are average: snapshot-size (4-by-6-inch) photos print at 2.7 ppm to plain paper and just over one per minute to glossy photo stock. Full-page photos printed on the Mac exit at about 0.6 ppm. Copy and scan times are both very fast compared to the average.
Canon has done a very nice job updating its Pixma MG series design, making the Pixma MG6320 far easier to use than the last generation. Its speed and print quality are very good, too, but its ink prices are a little higher than average overall. TheHP Photosmart 7520 e-All-in-Onecosts the same, but it includes an ADF if you need one, and it has cheaper inks.
Editor's note: The ink discussion for this article was expanded to show the costs for a page with the regular four colors–cyan, magenta, yellow, and black–as well as a page that adds the photo black and photo gray.