How to get good-looking photo prints from a colour laser printer.
Conventional wisdom says laser printers shouldn't be able to produce decent-looking photo prints. After all, they use only four colours and they're designed for productivity; not reproducing tonal nuances. But when I needed a couple of prints in a hurry and my monitors weren't profiled, a colour laser printer was at hand and switched on, so I decided to use it.
To my surprise, it delivered photo prints that were good enough to surprise friends and colleagues with printing expertise. The secrets of success lie in understanding the printer's limitations, setting up the printer correctly and using the right printing paper. We'll cover these factors in this feature.
Image ChoicesYou can print both colour and monochrome images, covering subjects as different as landscapes, portraits and interiors. However, some image types produce better results than others. We obtained the best-looking prints from images with plenty of detail and bright, vibrant colours.
Images with subtle tonal nuances are more difficult to print well, partly because laser printers tend to boost contrast but also because it is more difficult to reproduce subtle transitions in pastel hues with a four-colour printer.
Monochrome prints made with the B&W setting were free of colour casts but different printers reproduced our original with different densities. One printer (the Canon) lightened the image by approximately 10%, while another (the Samsung) darkened it by roughly the same amount. Monochrome prints made with the colour setting always had colour casts. Some were slight enough to overlook but others were quite obvious.
Laser Printers' LimitationsConventional consumer colour laser printers transfer powdered toner to receiving paper, using an electrostatic process. Heat bonds the toner to the paper. The resolution of the resulting print is decided by how finely the powdered colours have been ground and the settings used in the printer driver.
Powder toners have a couple of advantages: they don't dry out if the printer isn't used for a while and they also produce very sharp printed text and deep, rich blacks. Toners come in generous packs, which means you don't need to keep changing cartridges (as you do with a consumer inkjet). Laser printers are faster than inkjets – and also cheaper to run.
However, they only use four toner colours: cyan, magenta, yellow and black. These are the traditional CMYK colours of commercial printing and their tonal gamut is less than that of modern inkjets with six or more colours.
It's not really fair to compare the output colours of a laser printer with the colours and tonal subtlety produced by a six-or eight-colour inkjet. A fairer comparison is with printed books, which are also reproduced through four-colour printing. In our experience, an entry level laser printer can match – and often exceed – the print quality of many commercially-distributed 'coffee table' books that sell for $50 or more. However, that said, there are some common faults that can appear in prints from laser printers:
1. Track marks on the surface of the paper, caused by the paper feed system. You can't do much to prevent them, although their visibility can be reduced by laminating the prints.
2. Gloss differential, where different tones have different 'shininess' when the print is viewed from a shallow angle. This can also occur with inkjet printing and is reduced by laminating the prints.
3. Metamerism, in which colours look different under different types of lighting. Almost all laser prints will appear 'warmer' in tone under incandescent lighting but take on a greenish colour cast under fluorescent lights. You can't do anything to prevent this.
4. Each printer will reproduce colour balance, brightness and contrast in slightly different ways, which can influence the end result.
5. Colour and brightness banding can be visible in some prints. It's usually quite subtle but indicates variation in the density with which the toner has been applied.
All laser printers leave the factory calibrated for document printing; not photo printing. Default settings are based on standard office printing paper (80~100 gsm), rather than covering a wider paper range. Colour, brightness and saturation adjustments are available, but may not be accessible in Photo mode. Some defaults can't be over-ridden in the photo printing mode.
[ If you like this article, please consider a small donation to Photo Review.Your donation will help us continue to publish free, independent, useful content for photographers. ]Click here to donate
Paper ChoicesA wider choice of papers is available for laser printing than for inkjet printers. Laser papers also tend to be cheaper than inkjet papers and come in larger packs, although not necessarily a wider range of sizes.
You can't use inkjet papers because their surfaces are coated to receive sprayed-on inks, whereas the surfaces of laser papers are coated to attract dry powder. Inkjet photo papers can't take the high heat used in a laser printer to fuse the toners to the paper.
Inkjet printers also have a simpler paper feeding system that allows them to print on thicker papers than laser printers. ('Normal' 80, 90 or 100gsm bond papers can be printed on both laser and inkjet printers.)
If you want good-looking prints, you must be discerning when choosing papers. Avoid plain office paper. The best results will come from coated papers with smooth surfaces and these can come in matte, low-gloss and glossy finishes.
The weight of the paper determines how the prints feel when handled. We recommend a minimum weight of 130 grams/square metre (gsm) for photo books and calendars. Some printers can't handle papers of 170 gsm or more.
An example of an image that prints well on a laser printer.
This illustration shows the subtle differences in colour and tonal rendition produced by different printers. The image in the top left reproduces the original from which the others were printed. To its right is a scanned image output by the Canon LBP7200Cdn. Below the original is a scan from a print made with the FujiXerox DocuPrint CP205, while beside it is a scan from a print made with the Samsung CLP-680DW.
The edges of areas of banding are indicated by the red arrows.
An example of the type of image which is difficult to print satisfactorily with a laser printer.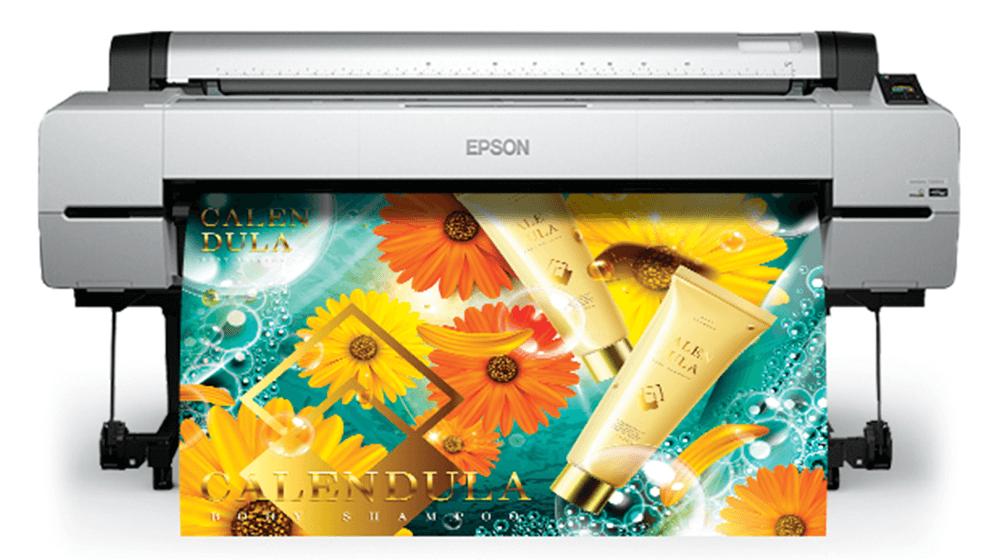 Setting UpThe drivers in the printers we tried often defaulted back to settings for printing documents on plain paper, so you need to keep checking all the settings each time you make a print – particularly when swapping between image files. The first step is to select 'photos' for the output quality and ensure the resolution is as high as the printer supports. Then match the paper type in the driver to the stock you're printing on.
The drivers in the printers we tried all provided suitable settings for heavier-weight, coated paper. If in doubt, select 'Lightweight card stock' or 'Coated paper' rather than 'plain paper' for the paper type setting.
If you don't match the paper in the driver to the paper you print on, the toner won't fuse to the paper correctly and your prints will show white patches like those shown on this page. Colours that weren't fused to the paper may carry over to be deposited on subsequent prints.
A print made on coated paper with the printer driver set for plain paper. Note the streaks resulting from paper incompatibility.
The driver in the Samsung CLP-680DW is more complex than the drivers in the other printers we tested, which may account for our difficulties in applying ICC profiles when printing.
Selecting the paper type from a drop-down menu (circled) in the driver of the FujiXerox DocuPrint CP205 printer.
ICC ProfilesThe three printers we tried allowed use of ICC profiles to help you match the print colours to the colours displayed on your monitor screen. In the FujiXerox DocuPrint CP205, the following settings worked well for most subjects:Adjustment mode – recommended,Image type – photos,Image auto correction – select 'Portrait' or 'Landscape' from the drop-down menu, according to the subject type.
The profile settings in the driver for the FujiXerox DocuPrint CP205.
Then click onProfile Settingsand select theICC Profilebutton. You can then set theMonitorprofile to the same as your monitor's by clickingBrowseand choosing the profile from the drop-down menu. ForInput Imageselect 'Same as monitor'.
Initial selection of ICC profiles is even easier in the Canon LBP7200Cdn once you've navigated to the Quality page in the driver.
Accessing the profile settings in the driver for the Canon LBP7200Cdn.
Canon driver profile
We used the following settings;Profile – photo prints,Objective – Photos,Colour Mode – select Colour or Black and White, according to the subject type. Then click on the Colour Settings button to open the manual settings pages.
Skip theColour Adjustmentpage and select theMatchingpage to access the profile settings. SelectDriver Matching Modefrom the top menu, then check theApplication Colour Matching Prioritybutton. For theMatching Method, choose Perceptual [Monitor Colour Matched]. Opening theMonitor Profiledrop-down menu allows you to select your monitor profile.
It's more difficult to use ICC profiles with the Samsung CLP-680DW because, while there's limited profile support in the Standard printing mode, it is blocked for the Photo printing mode (which seems counter-intuitive). Profile access is also difficult to locate in the printer driver, even in the Advanced section. The driver is set to block access when it perceives a 'conflict' in settings, as shown in the screen grab.
Samsung's Easy Colour Manager software, which has to be downloaded from the company's website and then installed, provides very limited profile support, along with some potentially useful image adjustments. Unfortunately, there's no link to the profiles in your computer, which makes it difficult to use monitor profiles in the photo printing mode.
Colour AdjustmentsWhile all the printer drivers we looked at include adjustments for brightness, contrast and the various colour levels, we would caution users about making adjustments in the printer driver. The adjustments made by the FujiXerox and Canon drivers are simply too great.
The Samsung driver supports finer tuning but none of the drivers lets you preview the results of the changes you make before committing to a print. Images that require small adjustments to brightness and/or colour values should always be adjusted in an image editor. (Save the adjusted image as a copy to ensure it is quicker to print again.)
The Colour Adjustment page in the Colour Settings section of Canon's printer driver is easy to use. But each adjustment step is relatively large and changes the image colour balance quite radically, as shown in the image behind the dialog box. In this case a one-step adjustment to add red and magenta was applied.
Samsung's Easy Colour Manager provides limited support for ICC profiles.
Colour adjustments in Samsung's Easy Colour Manager.
Test PrintersOur initial tests were carried out on three typical entry-level, A4 'business' printers: the FujiXerox DocuPrint CP205, which is priced at around $250 RRP. This printer claims a resolution of 1200 x 2400 dpi.
We also tested a Samsung CLP-680DW, which is priced at around $550 and claims to output at 9600 x 600 dpi (600 x 600 x 4 bit). The third printer we tried was a Canon LBP7200Cdn (RRP $599), which lists its print resolution as 'up to 600 x 600 dpi (2400 x 600 dpi quality)'.
The three printers we tested, from left; FujiXerox DocuPrint CP205, Samsung CLP-680DW, Canon LBP7200Cdn.
[ If you like this article, please consider a small donation to Photo Review.Your donation will help us continue to publish free, independent, useful content for photographers. ]Click here to donate
Article by Margaret Brown –see Margaret's photography pocket guides
Excerpt fromPhoto Review Issue 56
Subscribe to Photo Review magazine