NEW LONDON, Mo. — When Clark Griswold first turned the Christmas lights on National Lampoon's Christmas Vacation, the whole neighborhood took notice, but you don't have to turn on the movie to see such a display, just travel to New London and it's easily seen from Hwy. 61.
Now up and running at 15772 Northside Drive, visitors can tune their FM radio to 88.9 to hear the songs as the lights flash, flicker and change color with the music along the drive-through layout.
The Northside Lights boast about 25,000 lights this year, and with an order of 17,000 more lights on its way for next year, owners Jeffrey and Shawna Lewis are well on their way of outdoing the Griswold's. "He had 30,000 lights and so after our order comes in for next year, we will be there," Jeffrey Lewis said.
Although, that was never their goal, anyway. The couple agrees that the year-long work to get the props done, which are hand-made by Jeffrey, along with an entire month of putting the elaborate display up, is worth the effort when they see the community enjoy it.
"I will sit out by the parking lot watching and hearing kids and parents singing along to the music, laughing and having a good time. All the stress I went through to put the show together, it takes all of that and wipes it completely away," he said. "This is why I do it."
This is the third year the display has been up, and guests have marveled at the drive-thru light tunnel and singing decorations with a hand-built Ferris wheel and holiday characters. An especially popular prop is the 34-feet tall mega-tree, which accounts for 6,100 lights. Jeffrey said putting up the tree is quite the feat in itself.
"We use basically an antenna tower which I have it hinged at the bottom. A friend comes over with a tractor and helps me raise the tower then lock it into position and put the guidewires on, and then from there it's taking and putting every strand on the tree and plugging it into the controller and making sure there is power to everything," he said.
"You know, it's magic," added Shawna.
This year, the lights on the tree encountered a glitch after the recent area storms that prevented it from running correctly.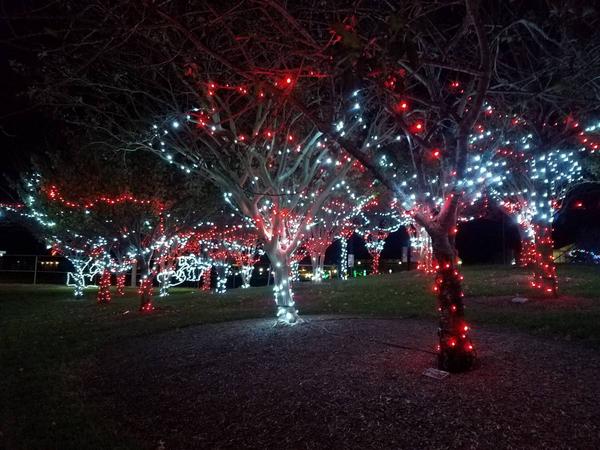 "When they get wet, the electrical contacts inside of them get wet and they kind of do their own thing," Jeffrey Lewis said. "It's a little frustrating when I sit there and look at that. But at the same time, people are still enjoying the show."
With a different type of light ordered, they believe the issues will be corrected by next year, and for this year, they said there are still many new things to see.
They have added six new songs, a living tree, some regular Christmas trees, and a few more deer. They also acquired a full nativity set from Candy Cane Lane, the popular display outside of Hannibal on Carrs Lane, which retired this year.
When driving through the display, guests might not realize it, but they are seeing the handiwork of Jeffrey Lewis himself.
"Every single one he has hand built other than the singing tree and the snowflakes," said Shawna.
"The singing tree and snowflakes we order pre-cut and we have a few different vendors we can go through to get certain stuff. A lot of the stuff we have as far as the house and the mega-tree it's all hand built. There's no kit for those," Jeffrey added.
He is also responsible for the lighting and power controllers, power supplies, and wiring. As an experienced builder and building inspector, Shawna said Jeffery has the knowledge and capability to do it all safely and beautifully.
The show is free to visitors but they do accept donations. The couple designated several nights for funds to support Cuddle Cat Rescue. Other donations will go to help pay the electric bill for this season's display and also to new props for next year.
They are also considering a future Halloween display.
"We are hoping to do a Halloween show if we get enough money to do the props. We want to do it, but we have to make sure we have all the Christmas stuff taken care of first," Jeffrey said.
There is also another addition that they are planning for; the couple is expecting their first child together in May.
The growing Northside Lights family will take a month-long break after the light display ends for the year before jumping back into the year-long planning. Until then, you can see the lights until Jan. 9 from 5 p.m. to 11 p.m.