Get your brackets ready, the 2022 March Madness season is officially here! The month-long NCAA men's basketball tournament tips off Tuesday with two of the First Four play-in games. This year's March Madness finally looks a little more normal following the cancellation of the event outright in 2020 and a 2021 tournament with a severely limited audience.
This year, fans can finally return to the stands to cheer on their favorite teams in the 2022 NCAA tournament. Other pre-pandemic operating procedures being returned to include the First Four games hosted over the course of two days instead of one, and the tournament will feature multiple host cities for the first and second rounds as well as regional semis and finals. Keep reading to find out how you can follow all the action:
The NCAA men's basketball tournament enters the Sweet 16 today and Friday, March 25. Whether you're hoping to catch a game or two in person, or follow the action from the comfort of your own home, here's everything you need to know about how to watch March Madness.
Where to watch March Madness 2022:
Sweet 16 games on March 24 & 25 will only be shown on CBS and TBS.
Moving on to the Elite Eight games: March 26 games will air on TBS, and March 27 games will air on CBS. The national semifinal games on April 2 will air on TBS, and the national championship game on April 4 will air on CBS.
March Madness Live is the dedicated home for live streaming all 67 games of the 2022 NCAA Tournament online, just sign in with your TV provider to access the livestreams. You can also catch March Madness games via popular streaming platforms, including Hulu + Live TV, Paramount+ and more.
---
How to stream March Madness 2022:
Streaming platforms such as Hulu + Live TV, Paramount+ and Sling TV are a great way to stream all the March Madness games wherever you happen to be.
Hulu + Live TVGettyHulu + Live TVA subscription to Hulu Live TV offers access to all major channels airing 2022 March Madness games including CBS, TBS, TNT and truTV. You'll also get access to more than 65 other live and on demand channels with live sports, news and entertainment. Try Hulu + Live TV free for seven days. $70 / MONTH
---
Paramount+Paramount+Paramount+All March Madness games airing on CBS will be available to stream simultaneously with a Paramount+ premium subscription. Paramount+ has two plans: the ad-supported Essential plan available for $5 per month, and the ad-free Premium plan available for $10 per month. You also can try Paramount+ free for 7 days.$0
---
DirecTVDIRECTVDirecTVWatch every minute of the NCAA March Madness men's basketball tournament with any DirecTV package and get $30 off over your first 3 months. Enjoy live or record on DVR to see games whenever you want. $70$60 PER MONTH
---
Sling TVGetty Sling TVSling TV is a great streaming option for basketball fans. Sling TV plans start at just $35 a month and offers access to more than 40 channels, including TBS, TNT and truTV, making it easy to catch most March Madness games. You even have the option of bundling a Paramount+ subscription for $10 extra to gain access to games airing exclusively on CBS. Try any Sling TV plan free for three days. $35 AND UP
---
ET and Paramount+ are both subsidiaries of Paramount.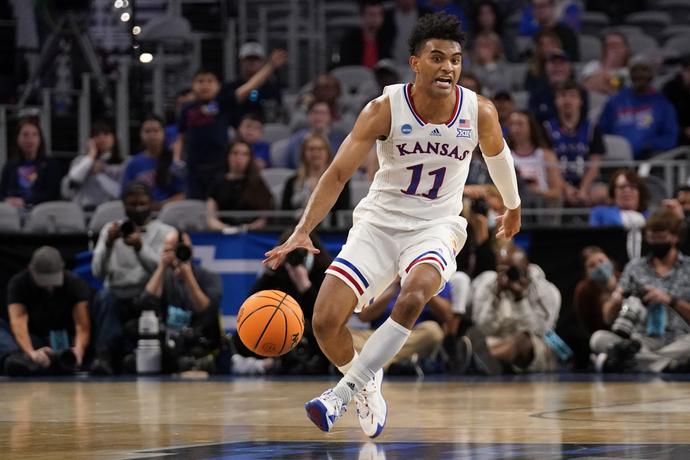 ---
March Madness Sweet 16 and Elite 8 schedule:
Sweet 16 schedule:
Thursday, March 24 — 7 p.m. start (CBS, TBS)
AT&T Center San Antonio; Chase Center San Francisco
Friday, March 25 — 7 p.m. start (CBS, TBS)
United Center Chicago; Wells Fargo Center Philadelphia
Elite 8 schedule:
Saturday, March 26 — 6 p.m. start (TBS)
AT&T Center San Antonio; Chase Center San Francisco
Sunday, March 27 — 2 p.m. start (CBS)
United Center Chicago; Wells Fargo Center Philadelphia
Final Four
Saturday, April 2 — 6 p.m. start (TBS)
Caesars Superdome New Orleans, Louisiana
National Championship
Monday, April 4 — 9 p.m. (TBS)
Caesars Superdome New Orleans, LouisianaAll times Eastern
---
2022 March Madness schedule:
---
How to get tickets to March Madness games 2022:
If you're excited to return to the stands with your fellow fans for the first "back to normal" March Madness tournament in two years, you'll be happy to know there are still tickets available, starting as low as $30. And if your game happens to sell out, It's easy to find resale tickets on Vivid Seats.Get Tickets
RELATED CONTENT:
How to Watch 'Spider-Man: No Way Home' — Now Streaming
How to Watch 'King Richard' Before The 2022 Oscars
What's New On Apple TV+ This Month
What's New on Peacock This Month: March 2022
What's New On Paramount Plus for March 2022
How to Watch 'Dune' Online Before The 2022 Oscars