For pen enthusiasts — and there are more of them every day — a pen isn't merely a tool that helps you write a story.
The pen is the story. One that traces the classic arc of the American consumer product — something that began as a functional, often beautiful thing, then became a mass-produced disposable commodity, and now is back to being beautiful.
"This," says Ian Schon, wielding one of his signature pocket pens, "is more than an object. It's something that ties you to a community, to a larger group of people and enthusiasts."
Schon, who designs and manufactures custom pens at his small shop in Kensington, will be among dozens of vendors displaying their wares at the Philadelphia Pen Show, starting Friday and running through Sunday.
The Philly Pen Show has seen a surge in growth in recent years as millennials have taken an interest in specialty fountain pens, said Scott Franklin of Franklin-Christoph, one of the shows sponsors. The handmade pens, he said, are the cornerstone to a craft-y lifestyle niche that includes journaling, illustrated travel notebooks, cursive writing, calligraphy, uncial (in the style of the ancient Greeks), and maintaining a BuJo (bullet journal).
Franklin's distant relative — Ben — wrote with a quill, and you can probably find a few of those at the show, but the main draw these days is the resurgent fountain pen — permanent, reusable, aesthetically pleasing, with components (like the "nib" that puts the ink on paper) tailored to individual taste.
They are also versatile. Users can swap out cartridges that carry ink in an endless array of colors (firefly, red candy, plum, etc.). "When I first started doing these shows, we had maybe 20 kinds of ink. Now, we have 200," said Franklin.
Another artisanal pen maker at this year's show: Alan Shaw, who makes pens at his Cheltenham shop and sells them online.
"Back in 2010, 2012, what I saw at the shows were gray-haired people like me. Now, young people are involved, and not just writing, but using pens to do artwork," Shaw said.
He makes the custom fountain pens you see in the Orvis sporting goods catalog, and recently made a series of presentation pens for National Geographic from red oak planks salvaged from the shop where Alexander Graham Bell made the first telephone. One such pen will be for sale this weekend.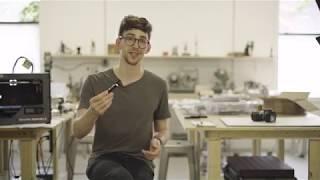 Price tag: $100,000.
How's that for a story.
"There's a wide price range. From $10 to $10,000 and up," said Franklin, who said dabblers tend to become devotees in short order. "But you don't need a lot of money to get into the hobby."
"About 10 years ago, we were worried that things were dying out," Franklin said. "Most enthusiasts were baby boomers, and they were mainly collectors of vintage pens, but as that slowed down, we had younger people suddenly coming in. And now the shows are stronger than they've ever been.
"People who grew up in the digital age are fascinated by analog. When you write something with a fountain pen, you're creating. You see the ink come alive on paper, you hear the sound of the nib, it's appealing to them."
Sometimes the hands-off collectors tangle with the hands-on millennials, he said, but the conventions have developed a reliable solution.
"We have a mixer," Franklin noted.
The show, all agree, is the best way for folks interested in joining the fountain pen craze to try different pens, papers, and inks. And increasingly, it's the only way. Most brick and mortar specialists have closed. Very few retail shops carry a big selection of fountain pens — a pen show is really the only place to sample a large array of varieties and brands.
This is important, since a fountain pen is a personal thing — each user has a preference for design: the weight, the texture, the feel. Configurations and options are many, and finding the one that suits you best means trying as many as possible.
If you can't make it, you can shop online, where manufacturers like Schon (who made a series of custom brass pens for poet Rupi Kaur) find customers, and vice versa. Schon, a refugee from the corporate world who started making pens after raising money on Kickstarter, is active on YouTube , Facebook and Instagram.
"Again, it's this idea of community," he said. "You can go online and interact with people who say, 'Hey, has everybody seen this small maker who's making something that so interesting and different?'"
The Pen Show will offer seminars and community events during its three-day run. There are workshops on calligraphy, uncial (that fourth-century writing style), penmanship, fountain pen basics, ink, a pen session just for kids, and "fun with splatter." The mixer is Saturday at 6 p.m.