Should you get an inkjet or a cheap mono laser printer? This roundup compares six inkjets with six mono laser printers.
Brother's HL-2250DN laser printer reviewed Canon's i-Sensys LBP6200d laser printer reviewed Dell's B1160w reviewed: a wireless laser printer that doesn't need data cables Kyocera's FS-1041 laser printer reviewed Oki's B401d laser printer reviewed Pantum's P2000 laser printer reviewed Brother DCP-J140W inkjet reviewed Canon's Pixma MG5460 inkjet printer reviewed Canon's Pixma MX526 inkjet printer reviewed Epson's WorkForce WF-3530 inkjet printer reviewed HP's Photosmart 5520 inkjet printer reviewed HP's Officejet 6700 Premium inkjet printer reviewed
When it comes to choosing a budget printer, do you go for a mono laser or an inkjet multifunction device? In this month's roundup, we've pitted six of the best budget laser printers against six of the most affordable inkjet all-in-ones.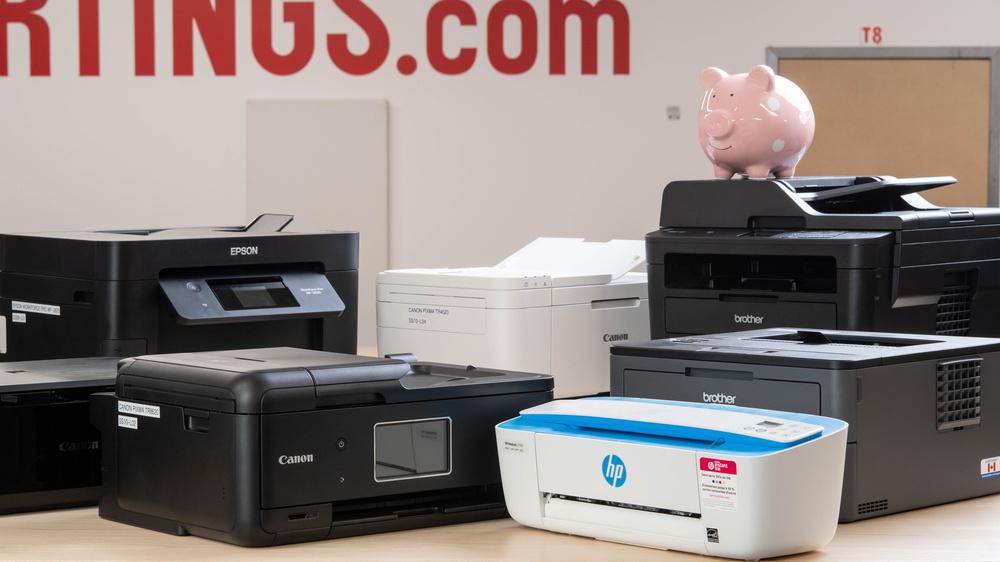 Whether you're hunting for the crispest text, the fastest prints, the best photo output or the lowest running costs, you'll find your perfect printer over the following pages.
Looking for the reviews? Click the printer review you want in the menu above.
So what should you look for when buying a printer? Read on...
Newsletter Signup
Get the latest business tech news, reviews and guides delivered to your inbox.
I have read and accept the privacy policy and terms and conditions and by submitting my email address I agree to receive the Business IT newsletter and receive special offers on behalf of Business IT, nextmedia and its valued partners. We will not share your details with third parties. There's a dizzying array of budget printers on the market. But before you read our reviews of these lasers and inkjet all-in-ones, take some time to think about the type of printing you'll be doing. It's time to be honest with yourself: how often will dashing off a snap of the kids for Auntie Mabel be a critical requirement? A mono laser might be all you need, and for text and basic documents this type of printer is king. While even the fastest inkjets struggle to produce more than 20ppm, and normally sacrifice quality to get close, a mono laser will print pages and pages of crisp, clean text in the blink of an eye. Basic models equipped with a single USB connection are perfect for a home office, while those with Ethernet and/or Wi-Fi connections are more suited for the role of a small office or household printer. For heavy users, a laser is ideal: even the lowest-specified printer here will happily churn out up to 8000 pages per month. That's more than 250 pages per day. It's the inkjet all-in-one that rules the roost for photo printing and all-round versatility, however. All the models in this month's group can print, scan and copy, and Wi-Fi connectivity comes as standard. That means you can print out pages from anywhere in the house, and dedicated iOS and Android apps that permit printing directly from a tablet or smartphone are becoming more common too. PictBridge-compatible USB ports and memory card readers also make it easy to print from a camera or memory card without needing to upload files to a PC first. It's even possible, with some models, to send prints to your printer when you're away from home, either by emailing files to a special address or by using Google's Cloud Print service. Inkjets are no longer restricted to home use, either. Four of the all-in-ones on test this month are capable of surviving life in a small office. They include larger paper trays, automatic document feeders (ADF) – for scanning batches of documents – and fax capabilities, and supplement their Wi-Fi connections with Ethernet for connection to wired networks. Print quality tends to be sacrificed for speed in these models, but, if you swap the plain paper for glossy, they're still capable of printing good-quality photos when required.
How did we test the printers?
We have conducted an extensive range of tests on every printer, timing how long each takes and judging its quality. For the laser printers, we test print quality across a selection of business documents, images and photos; for the inkjets, we use a wider set of colour printing, scanning and copying tests.We print ten copies of a mono letter in draft and normal mode, a five-page ISO test document, and a demanding ten-page PDF of a PC&TA Labs, retesting in duplex mode where applicable. We follow that with five 6 x 4in photos on the inkjet devices, and the Colour Collective A4 test image, which combines an array of contrasting scenes, gradient ramps and contrast keys. For print tests, we time from the moment the first page is dragged into the printer's feeder mechanism to the moment the last page hits the output tray. All speeds are quoted in pages per minute (ppm); for duplex speeds, a "page" refers to each side printed. For the inkjet all-in-ones, we capture a series of scans using Adobe Photoshop CS5.5. We time an A4 preview, then scan a colour A4 document at 200ppi, an A4 photo at 300ppi, and a 6 x 4in photo at 600ppi. All scans are timed from the moment we click Start to the moment the image is available for editing. We also copy an A4 mono letter in draft and normal mode, a colour document in normal mode, and a 6 x 4in photo at best quality. For all copy tests, we time a single copy. To assess quality, we line up all the prints and scans and rank them, assigning scores for each. The results are then totalled and weighted to produce an overall percentage, which we convert to a score out of 6 for each review. We follow a similar approach with the Speed score, although we weight print scores higher than scan and copy scores to reflect likely usage. The Features & Design score takes into account a printer's connections and card slots, media-handling capabilities, screen size and quality, and interface. We look at included software, whether a printer has an ADF or fax capabilities and if it supports duplex mode. Finally, on the inkjet models, we carry out a rundown test on each printer. We print a selection of varied real-world photos, fool the printer into thinking it's printing on glossy paper, and repeat until each ink tank runs dry. This gives us the real-world photo yield of each ink, which we use to calculate the cost per 6 x 4in photo.
Conclusion
For the past fortnight, our test labs have echoed with the noisy clunk and shuffle of 12 printers. Thick sheaves of paper have dwindled in size, steadily dwarfed by piles of empty ink and toner cartridges. As Labs tests go, it's one of the most labour-intensive there is: there's no benchmark suite that can produce a handy set of numbers, so the only way to find the best is to print, scan and copy with a stopwatch in hand. Once the 108 printing, scanning and copying tests have been completed, the real fun begins. We score every single print and copy, and examine every scan on a top-flight, colour-calibrated Eizo ColorEdge CG275W monitor. Only then do we fire up Google, searching for up-to-date prices for every printer, ink and toner cartridge, and calculate the in-depth running costs you'll find next to each review and on the results pages. It's been an epic undertaking, but, before any of this month's MFDs and printers had even arrived, we had one goal in mind: to put budget mono lasers and inkjet MFDs head to head, to find out which offer the best value for money. With friends, family and even certain members of the PC&TA team admitting to having never printed or scanned a photo with their fully-featured inkjet all-in-ones at home, many people just don't need bells and whistles – quick, cheap, good-quality document prints will more than suffice. If all our testing has proved anything, it's that this is where the mono laser rules supreme. Brother's HL-2250DN is a prime example: after printing 10,000 pages, the Pantum's total cost of ownership comes to only $378. Do the same with even the cheapest of this month's inkjets and, in addition to far scratchier-looking prints, you'll be facing a bill for exponentially more than that. It's a big difference, and enough to pay for several hundred 6 x 4in photos from online photo-printing services such as PhotoBox or Snapfish.Choosing a winner isn't only a case of cherry-picking the cheapest. The Brother HL-2550DN strides ahead with its low running costs, but crisp text output is dragged down by average image quality. That's why the Dell B1160w and Oki B401d have taken the mono-laser gongs this month. They're a little pricier to run, but it's a price worth paying: the Dell combines superior all-round quality with the convenience of wireless printing, and the business-friendly Oki jets out pin-sharp text at the kind of speed that makes inkjets tremble.For all-round flexibility, though, it's tough to beat an inkjet all-in-one. For sheer value for money, HP's Photosmart 5520 is well worth a mention – it combines crisp prints, scans and copies with low long-term running costs.We'd pay the premium for the Canon Pixma MG5460 in a heartbeat, though. It stands head and shoulders above the rest: with stunning photo prints, crisp copies, near-laser-quality text and faithful scans, it's in a class of its own.But business users shouldn't feel left out. Epson's WorkForce WF-3530 partners the low cost of an inkjet all-in-one with oodles of features, burly build and near-laser running costs and print speeds. It shows just how versatile inkjets can be.