Design and featuresThe Officejet Pro 8600 Plus printer strips away the glossy veneer of the past and replaces it with a modern matte paint job that does its best to hide dust and fingerprints. It has a professional look that should easily fit into any office or home decor, though at 12.4 inches tall, 19.4 inches wide, and 18.9 inches, you'll need to clear a sizable amount of space to fit its large chassis. The printer's sides feature two indented handles that make it easier to carry around, although you won't want to move it on a daily basis.
A single 250-sheet input tray protrudes 4 inches out of the front of the 8600 Plus and a 50-page automatic document feeder (ADF) resides on top. You won't find a manual feed tray in the center console like you would on a laser printer, which might be irritating if you print on irregular media like heavy cardstock or nonstandard envelopes. If that's the case for you, I recommend theHP LaserJet Pro 100 Color MFP, a capable Hewlett-Packard laser printer with similar all-in-one functionality (scanner, copier, fax, and printer).
On the other hand, if paper input capacity is a hindrance, HP also sells a version of this printer called the Officejet Pro 8600 Premium that comes with an extra 250-sheet paper tray, an additional set of ink cartridges worth $60, and a 50-sheet pack of HP Premium Glossy Brochure paper, priced for $14 in HP's online retail store. By upgrading to the step-up Premium package, you'll save about $50 on your overall consumables cost, and I recommend taking advantage of these savings up front if you plan to print lots of photos or graphic documents.
The HP's ample 4.3-inch touch-sensitive color display makes navigating the print, copy, scan, and fax functions a breeze. The screen is the same size as the Officejet Pro 8500A Plus' screen and the competing Epson WorkForce 840, but the WorkForce 840 surrounds its color LCD with a larger 7.8-inch touch panel that provides additional navigation buttons. The HP's entire touch panel, on the other hand, resembles an iPhone on its side and measures 6 inches on the diagonal.
In the end, both printers do an admirable job of providing a simple and clear menu system for navigating their many functions. However, HP makes it easier than Epson to enter text thanks to a full QWERTY virtual keyboard; entering data such as a wireless password on the Epson requires scrolling through the alphabet for each letter and is akin to entering your initials for a high score in an old arcade game. This version of the display also has less mushy play between the outward-facing screen and the hard registration pad below it, so you're less likely to mistakenly press a button. The screen still isn't perfect--for some of the onscreen features I needed to repeatedly push the corresponding virtual icon until the action finally registered. With no way to recalibrate the screen in the settings page, you're in for a frustrating experience until the printer gets it right.
In addition to using a direct USB connection (like most vendors, HP does not include a USB cable with the printer), you can set up the Officejet Pro 8700 Plus on your network via Ethernet or Wi-Fi. We tested the Wi-Fi connection and the process was easy; using the printer's touch screen, we navigated through a few setup screens to find our network, quickly entered its password using the virtual QWERTY keyboard, and established a connection within a minute. Macs and PCs alike on our network were able to see the printer without the need to install any additional software.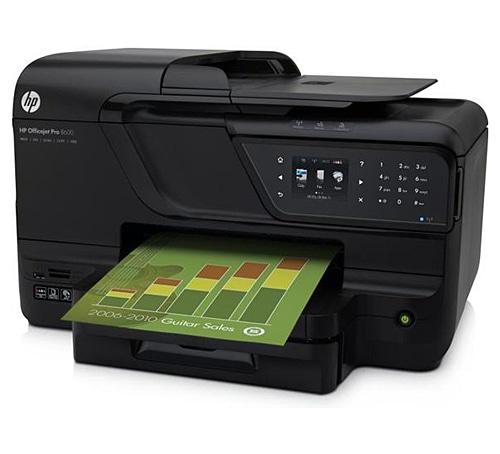 Once you connect the printer to a wireless network, you can use HP's AirPrint feature to print from any iOS device without an additional application. Using AirPrint, you can print out a photo from your iPhoto library by simply choosing the connected printer and hitting Print. You can't adjust any print properties, however; and our Hipstamatic test photo printed with a portion missing on both letter-size paper and 4x6-inch photo paper.
In addition to AirPrint, the Officejet Pro 8500A Plus also features HP's ePrint technology, which enables you to send jobs from any connected device to the printer using the uniquely assigned e-mail address. You can find this address using the control panel (Wireless > Web Services > Display Email). It's a convenient feature, to be sure, but it comes with a few restrictions. For one, the printer must be on and also connected to your network. For another, it can't print Web pages, although you can simply copy and paste the text into a document as a workaround.
Along with the standard Copy, Fax, and Scan options listed on the home screen of the Officejet Pro's control panel, you get a fourth icon labeled Apps. Our test unit came preloaded with 21 apps that let you print new pages from outlets like the Financial Times, Yahoo, Reuters, and USA Today. Others from DreamWorks, Nickelodeon, and Disney let you print coloring pages, paper airplane templates, and other crafts. You can install additional free apps, but you must do so from HP's ePrint Center Web site after creating an account.
The standard flat-bed scanner/copier measures 8.5x14 inches, meaning it can scan or copy letter- and legal-size documents. With its 4,800-dpi resolution, scanned and copied documents look crisp and sharp, and you can send scans to a PC, a memory card, a network folder, or an e-mail program. The duplexing autodocument feeder on top of the machine can also flip pages around for hands-free scanning of single and double-sided originals.
PerformanceThe HP Officejet Pro 8600 Plus registered similar scores to the preceding Officejet Pro 8500A Plus, with a slight bump in print speeds across all four output tests. Despite the improved engine, the Epson WorkForce 840 was still able to outgun HP in the presentation and plain black-text speed tests, albeit only marginally.
HP Officejet Pro 8600 Plus (in pages per minute)
(Longer bars indicate better performance)
| | | | | | | | | | | | |
| --- | --- | --- | --- | --- | --- | --- | --- | --- | --- | --- | --- |
| | Black text | | | Color graphics | | | Photo | | | Presentation | |
Epson WorkForce 52012.512.262.612.73Epson WorkForce 84012.484.510.866.79HP Officejet Pro 8600 Plus12.265.931.576.26HP Officejet Pro 8500A Plus12.215.841.525.94Lexmark Prevail Pro7057.333.351.463.62Canon Pixma MX8707.182.550.83.5
You could easily mistake the excellent print quality of the HP Officejet Pro 8600 Plus for output from a laser printer. With solid lines in both color and black and white, and especially darkened grayscale prints, the documents are of high-enough quality that I wouldn't hesitate to hand them out at a client meeting. Like the WorkForce 840, the Officejet Pro 8600 Plus exhibited impressively crisp photo output quality with bright, vivid colors and minimal blurring even in finer text sizes.
Service and supportHP backs the Officejet Pro 8600 Plus with a standard one-year warranty, which includes 24-7 toll-free phone support and live Webchat during weekdays. HP's Web site also contains downloadable drivers, software, and manuals; e-mail tech support; FAQs; and a troubleshooting guide. You can return the product within 21 days of delivery.
ConclusionHP succeeds again in building a classy, fast, reliable all-in-one imaging device for the business market, but I wouldn't end my recommendation at the office door. With its spread of convenient connectivity features and cloud printing that includes ePrint and AirPrint compatibility, the affordable Officejet Pro 8600 Plus will earn its place as a solid performer in any environment that demands high-quality document and image prints.
Find out more about how we test printers.