Verdict
Pros
Cons
Key Specifications
HP still sells more inkjet all-in-ones than any other company by a healthy margin, and is careful not to disturb a winning formula. The Officejet 6600 is an evolutionary product, applying tweaks to an already good specification, though still with a couple of surprising omissions from its feature set.
It's another black box, but with enough curves on everything from its Automatic Document Feeder (ADF) to its touchscreen control panel to ease it into a home, as well as a more square-cut small office environment. The feed tray for its 35-page ADF has heavily rounded sides, so from the front it looks something like a stylishly-billed duck. The recess in the scanner lid lip is small enough to make it awkward to open.Below the scanner, to the right, is a 67mm touchscreen, with dedicated touch buttons ranged around it. The screen is bright and the menus and icons well designed, giving a clear, functional control scheme, which is intuitive and quick to use. Below the screen, there are no memory card slots, nor even a front-panel USB socket. This is a shame, as the extra cost isn't great and the increased flexibility of being able to print from or scan to USB storage would have more than outweighed it.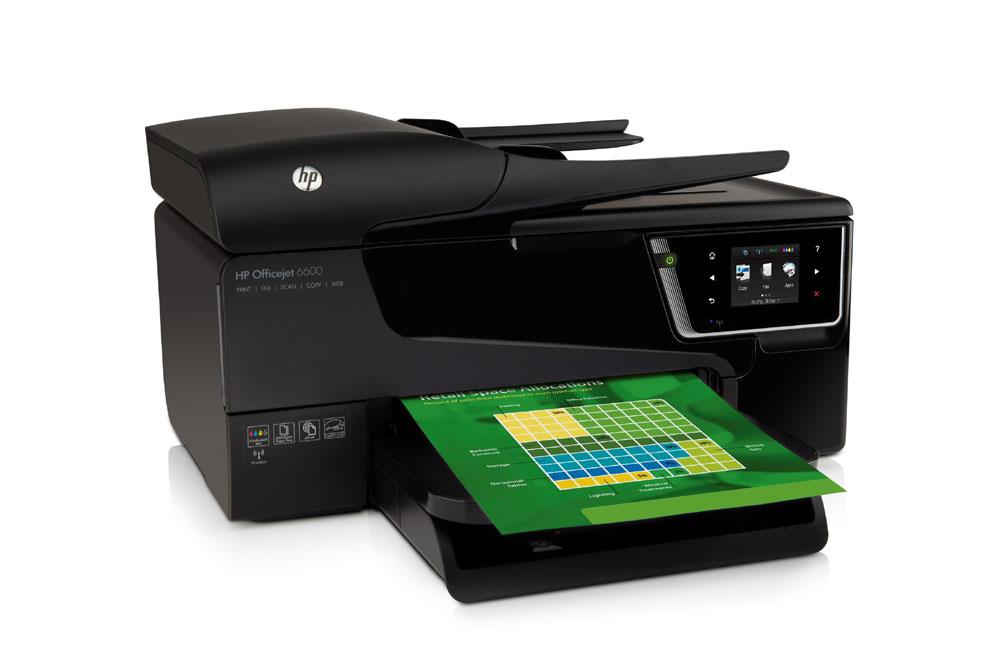 The single paper tray has a good capacity of 250-sheets (half a ream), so you shouldn't have to refill it too often. The output tray, directly above it, has a pull-out extension, which makes the printer very deep when it's set up for printing. Rival machines set the print head further back, so the overall depth is kept smaller.USB and wireless connections are supported, but much of the HP Officejet 6600's print flexibility relies on a wireless link. The four individual ink cartridges slide and click into place easily, once you've folded down the printer's front panel. Software comprises HP's own apps, including OCR, and plenty more are available from the ePrint Center.
We tried downloading a daily puzzle page, which printed automatically at a set time each day, so you could, for example, pick up a puzzle sheet on the way out to a daily commute. Much of the content is US-based though, so watch out for spelling and cultural differences.
HP makes fairly modest speed claims for the Officejet 6600, with 14ppm for black and 8ppm for colour. Under test, our sample produced a maximum of 13.0ppm on the 20-page sample, which is pretty close, but only 4.6ppm for colour. In real terms, though, both these figures are good for an inkjet.
When testing draft print, which looks nearly as good as normal mode and would be fine for most documents, the printer occasionally spent up to 32s chuntering around, before starting to print the first page. This is a long time for pre-processing.
A single page colour copy form the flatbed took a spritely 31s and a five-page black text copy from the ADF completed in 56s, also quite quick. 15 x 10cm photos took around a minute from both PC and Android smartphone sources. HP's ePrint Home & Business app on our Samsung Galaxy Mini was easy to use and prints quickly via any ad hoc wireless link, as well as via the Web.It's surprising there's no duplex facility on the Officejet 6600, a feature which is becoming standard on many inkjet all-in-ones, even those not geared to the home office. The savings in paper costs are not to be sniffed at.
Prints we obtained from the machine were good. Clear, crisp black text with no signs of fuzziness or head misalignments, bright, dense colours with excellent registration of black text over colour fills and clean inverted, white-on-black. Photos, usually a strong element of HP print, are a bit less nuanced than normal, with stronger colours than necessary in some natural shades and loss of some dark detail.The ink cartridges are available in standard and XL versions and using the higher-yield consumables gives page costs of 2.8p for ISO black pages and 6.2p for ISO colour pages, including 0.7p for paper. These are competitive for a machine at this price and the separate colour cartridges mitigate ink wastage.
VerdictThe HP Officejet 6600 is a good, SOHO all-in-one, which prints quickly, produces excellent plain paper prints and is economical to run. However, the lack of both duplex print and, at a minimum a front-panel USB socket, have to count against it, as some of its main competitors include both.
Trusted Score
| | |
| --- | --- |
| Networking | Yes |
| Card slot | None |
| Connection Type | USB |
| Extra Features | 67mm touchscreen, ePrint, AirPrint |
| | |
| --- | --- |
| Height (Millimeter) | 240mm |
| Width (Millimeter) | 464mm |
| Depth (Millimeter) | 448mm |
| Weight (Gram) | 7800g |
| | |
| --- | --- |
| Type | Inkjet |
| Duplex | No |
| Paper Size | A4 |
| Colour | Yes |
| Number of Catridges | 4 |
| Sheet Capacity | 250 sheet tray |
| Print Resolution (Dots per inch) | (enhanced) 4800 x 1200dpi |
| Rated Black Speed (Images per minute) | 14ipm |
| Rated Colour Speed (Images per minute) | 8ipm |
| Max Paper Weight | 250g/sm |
| Print Without PC | Yes |
| | |
| --- | --- |
| Scan Resolution (Dots per inch) | 1200 x 1200dpi |