Decide where you want to hang your TV before you go shopping for a mount, because that will affect the type of hardware you choose. You can try a few different positions using painter's tape to mark off the TV's dimensions on the wall.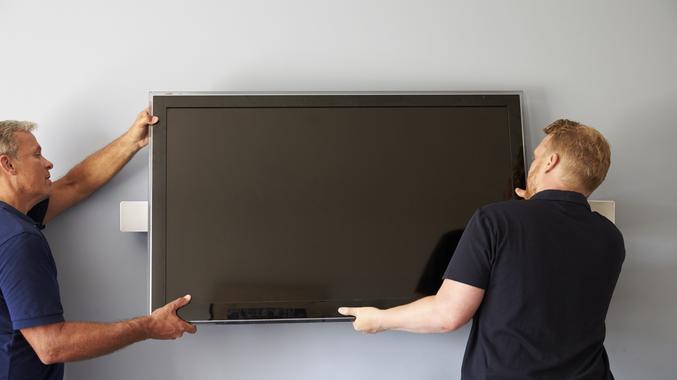 You'll want to attach the mount to framing studs—and not just drywall—to make sure it will support the weight of the TV. Installing a TV on brick, block, or plaster walls generally requires special tools and hardware if it's not included with the mount.
The height of the screen, and the angle from the screen to where you'll be sitting, affects picture quality. If you were placing your TV on a stand, you'd want the center of the screen to be at eye level when you were seated. But a wall-mounted TV tends to look weird when installed that low.
Instead, try to hang the TV so the bottom of the screen is no higher than eye level when you're seated, and the top of the screen no higher than eye-level when you're standing. If you need to install the TV higher, you'll want to consider a tilting or articulating mount (see below).
You should make sure the location gives you easy access to an electrical outlet for power, and that you'll have adequate storage for any components, such as a cable box, streaming player, or game console, you'll be connecting to the TV.