Chromebooks are focused on ease of use, as well as affordable prices. Unlike normal laptops, they're designed to be used most of the time for online activities. Because that online activity isn't as private as you might like - your ISP can see every website you visit, for example, you should use a VPN.
It encrypts the connection between your Chromebook and the internet to help keep your information and browsing private. Here we explain how to get a VPN working on your Chromebook.
What is a VPN?
A Virtual Private Network (VPN) is a service that creates an encrypted software 'tunnel' through which all data (including web searches, files you download and payment details) are protected from any snooping software or other tracking measures used by your ISP, hackers, authorities and websites themselves.
While you can get free VPNs, they tend to be quite limited, so we recommend paying for a VPN service if you want the best experience.
To see our pick of the current crop, take a look at our roundup of the best VPNs.
Can you use a VPN on a Chromebook?
Yes you can, but as you're probably aware, it isn't usually possible to install software locally so you'll have to use web-apps (or browser extensions) for the most part. This means you may find that some VPNs are not available on ChromeOS.
The way these work is via plug-ins for the Chrome browser. As ChromeOS is essentially a beefed up version of Chrome, it will act like an installed app that you'd find on Window, macOS or Android.
What you have to watch out for is that these extensions are actually proxies, not VPNs. A proxy extension changes your location (to wherever you choose) but unlike a VPN, will not encrypt the entire connection like a VPN and won't provide the same level of protection. Sometimes the browser extensions are free and don't require you to sign in, but these will also be proxies.
Some extensions force HTTPS everywhere, which encrypts most of the information, and the best will also send DNS lookups over HTTPS. This means your ISP shouldn't be able to see the sites you're visiting.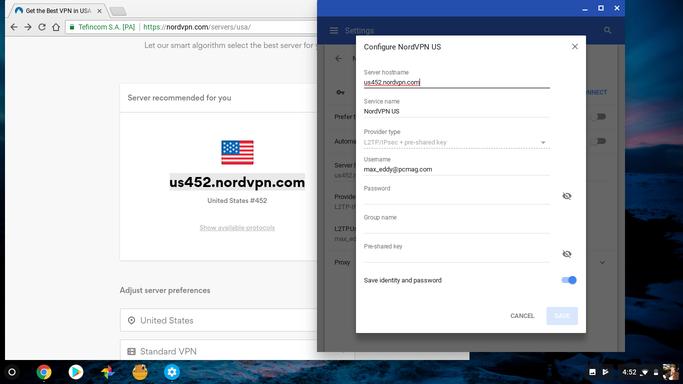 However, if your Chromebook supports Android apps, the best way to use a VPN on a Chromebook is to install the provider's Android app from the Google Play store, and use it just like you would on an Android device. This will give you a fully encrypted connection, hiding all the data that's sent from your Chromebook to the VPN server from prying eyes.
Proxies are fine if you just want to get around regional blocks to access websites and streaming services, but for privacy you should use an Android VPN app.
Three VPN services we recommend for Chromebooks are:
How to use a VPN on a Chromebook
You'll need to sign up to a plan, even if that's a free one. Virtually no VPNs allow you to use their service without an account.
For paid services, you'll find big discounts when you sign up for multiple months or years, and you can check our roundup of the best VPN deals to bag a bargain.
With your account set up, head to the Google Play Store, if your Chromebook has it. Search for the VPN company you've signed up with. We can't think of any that don't offer an Android app, but you may prefer to double-check before you do sign up!
Next, launch the app and enter your login details. Now you can connect to the VPN, or choose a location first, then connect.
Chromebook VPN browser extension
If your Chromebook doesn't support Android apps, an alternative is to use a browser extension, remembering that these cannot establish a VPN connection but are in fact proxies.
Head to the Chrome Web Store where you can search for the VPN you want to use. Then click the Add to Chrome option followed by Add Extension to install it on your Chromebook.
Once the extension is on your Chromebook, you'll be able to access it by clicking on the jigsaw piece icon (arrowed below) to the right of the address bar. You should find the VPN listed near the top of the drop-down menu that appears. Clicking the Pin option will keep it visible all the time, making it easy to access.
Although we're using Surfshark here, the principles are the same for just about every proxy extension.
Clicking on its icon opens up the interface. This will usually comprise a list of locations, where you can select the server you want to use. This is particularly handy if you're trying to access a website or service but can't because it isn't availablein your country.
So, for example, if you want to view the US catalogue of Netflix, but you're in the UK, then choose a server in America and, once connected, you should be able to watch the shows and movies usually only available in that country or region. Bear in mind that not all extensions are able to unblock all streaming services.
After choosing a server or location, click the Connect button or similar and the proxy connection will be set up. Now, whatever sites you visit will think you're in the country that you selected for the server.
Depending on the service you use, there may be other settings available, such as Multihop (which routes the connection through two servers in different locations), but for the most part all you'll want is to change your location.