Alaska's largest telecommunications company is phasing out its cable TV service in Anchorage and other urban areas in the state, in line with changing habits as viewers increasingly stream their shows over the internet from companies like Netflix or Hulu.
The move has upset a number of GCI cable customers, who are airing their frustrations on social media platforms like GCI's Facebook page and Nextdoor.
Company officials say those viewers can get the same programs they're already getting for the same price, or less, on the company's new internet streaming service, Yukon TV.
Here's how it works: Cable viewers will have until March 31 to move over to Yukon TV. They'll reach out to GCI, and turn in their cable equipment such as the traditional cable box. They'll use a streaming box instead. They download the Yukon TV app over the internet to get started, according to GCI.
The viewers must have GCI internet, which most of the company's cable TV users already have, GCI officials said. There are no additional internet delivery costs associated with Yukon TV, they said.
"This is really the exact same service, it's just a different delivery system," said Kate Slyker, GCI's chief marketing officer. "So there is very little change in it, except for the box in your home and the device in your hand."
[Higher prices on Amazon cause a retail ripple effect]
Some customers say the streaming servicethat launched this summerhas been glitchy, slow and hard to set up. They say customer service has been lacking after GCI this year outsourced its call center to the Philippines from Alaska.
GCI has already eliminated some channels from cable, though they're available on Yukon TV. That's adding to frustration among viewers.
But GCI officials and industry observers said telecommunications companies are making similar changes across the U.S. out of necessity. They say the customer exodus from cable TV to the internet is changing the industry, even making equipment like traditional cable boxes obsolete.
"This is just the way the industry is going and we have to follow suit," Slyker said.
GCI is empathetic to customer concerns and trying to address them, she said. Much of the early frustration with moving to streaming seems to fall away after customers navigate to the new service and get comfortable with it, she said.
And streaming offers advantages, such as no cable TV box and related fees, Slyker said. Too often, viewers had problems with the aging boxes and couldn't get their shows, she said.
Many had told GCI they'd like to do away with their big cable TV packages. Instead, they want to use new streaming options, such as Netflix, to build customized packages.
With Yukon TV, Alaskans can still get local and other channels, and use other streaming services to receive additional channels and programming, she said.
Or they can opt for Yukon TV's more expensive services — the costliest plan sells for $130 a month — with the same channels they received on cable.
"For us this is about trying to get solutions, in terms of how can people continue to customize a package," she said. "How can people pay less to get live TV? How can people do a little bit of Netflix, and a little bit of TV? But what that requires to meet that marketplace demand is change."
Deana Myers, S&P Global research director in telecom, media and technology, said telecommunications companies across the U.S. are taking steps like GCI is. She said cable boxes are going away as internet streaming use explodes nationally and cable use drops.
Myers said internet providers benefit by saving money with the change because overhead is lower with streaming services. One area of savings, for both the telecommunications company and the customer, are the fees and costs associated with the cable boxes, she said.
Myers said the change presents a substantial learning curve for some customers.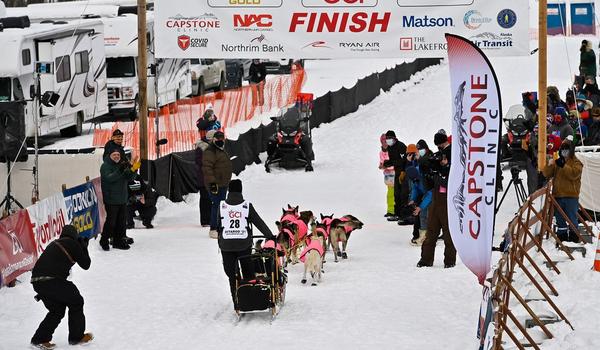 "If your household is not that internet savvy, it might be problematic to make the change. So some people have not had a great experience."
Carol Wineck, 79, said she's "disgusted" that she's being forced to leave cable for Yukon TV.
She'll have to somehow get rid of the "beast," as she calls her old box television, replacing it with a flat-screen TV. GCI has already canceled several channels, including music channels that she liked to play in the background, she said.
"They have something that says, 'Waiting for you on Yukon TV,' " she said.
Thanks to the TV she'll have to buy, the change will cost her hundreds of dollars up front. She said she might save a little each month if she chooses GCI's larger Yukon TV package.
"There are a lot of stinky things making people very unhappy."
Slyker, with GCI, said the company is taking steps to support customers. It extended the phase-out deadline by three months. It's providing Yukon TV free for two months. It set up a special call-in feature so customers can quickly reach technicians focused on Yukon TV. Customers can also use both cable TV and the new streaming service for now.
"We are working to take some of the sting out of it, because we want people to be happy," she said.
GCI is also taking steps to smooth out glitches with Yukon TV.
Program providers in Alaska such as KTUU-TV say the change has not really affected them, though many viewers are reaching out with questions and concerns.
KTUU-TV will see its primary channels, such as NBC and CBS 5, available on all the Yukon TV packages, said Nancy Johnson, general manager at KTUU-TV.
[The city wants to build a big new snow dump in West Anchorage's Connor's Bog. Some neighbors say it's a bad idea.]
Johnson said KTUU-TV could potentially benefit through additional advertising because Yukon TV will add a couple of KTUU-provided digital channels, including Circle with its country music, Johnson said.
"It's a lot like when we went from analog to digital," Johnson said. "It's a technology change, if you're a senior citizen who's watched the same channel the same way for decades, it's hard to make the change, I'm sure."
Linda Wei, chief content officer at Alaska Public Media, which provides PBS and other channels, said its programs are available on Yukon TV.
"As far as operationally, things are smooth on my end," Wei said. "It's more of the end-user. They have to get equipment, download the (Yukon TV) app. It changes how they experience watching TV."
In response to viewer concerns, Alaska Public Media recently organized a presentation with GCI to help explain the changes to its members. About 270 members RSVP'd.
Christine O'Connor, executive director of the Alaska Telecom Association, which includes GCI as a member, said she thinks viewers will ultimately be satisfied because customers can personalize their programming with streaming TV.
O'Connor cut the cable cord at her house years ago, she said.
GCI is considering new service plans for such rural areas, but the company has time to weigh plans there, she said. For now, cable TV boxes from Anchorage and elsewhere can be re-deployed into rural areas.
The switch to Yukon TV is not happening in many rural areas, Slyker said. It is happening in rural communities like Nome and Kotzebue, Wrangell and Petersburg, which receive GCI connectivity over fiber like Anchorage other urban areas.
GCI is considering new service plans for rural hubs such as Bethel and Dillingham that aren't part of the switch. But the company has time to weigh plans there, she said. For now, cable TV boxes from Anchorage and elsewhere can be re-deployed into those rural areas.
Correction:This article previously incorrectly said the switch to Yukon TV is not happening in rural areas, such as in Nome. The switch is happening in some rural areas, including Nome, Kotzebue, Wrangell and Petersburg, which receive GCI connectivity over fiber like Anchorage other urban areas. Some rural hub communities, such as Bethel, will remain on cable TV for now and are not part of the switch to Yukon TV.