Can ink refills save you money? As PCWorld's Serial Refiller, I'm on a mission to find out. I've been trying refilled and remanufactured black and tricolor cartridges for my HP Photosmart e-All-in-One printer, assessing their ease of use, output quality, and page yield.
This time, I tried the G&G Refill Kit, which is available online from various retailers, including Castle Ink (my chosen source). After the horrible encounter I had last time with a supercheap, no-name ink refill kit, I hoped for better luck through an established business. Unfortunately, the G&G kit only reinforced for me that do-it-yourself ink refilling is an unpredictable and potentially very messy undertaking.
My Serial Refiller trials are anecdotal: one printer, one set of cartridges, one chance for glory (or failure). They do not reflect how a kit will perform with another printer's cartridges, nor can they predict how a refilled cartridge will perform over time. I do not examine the archivability or durability of third-party inks. But if you've been wondering whether refilled or remanufactured ink cartridges are worthwhile, these experiments will give you a taste of what to expect.
Looking at the numbers, do-it-yourself refill kits can offer outstanding cost savings in comparison with the original printer vendor's (OEM) inks. Granted, you can refill a cartridge only so many times before it gives out, depending on how well it endures repeated procedures, and on how well the third-party ink works in the system. Even if you have to start over with fresh cartridges every now and then, however, you'll still come out way ahead–if all goes well.
If all doesn't go well, you could have a mess on your hands. Print quality varies, too: Sometimes it's very good, as was the case with the Inktec refill kit I tested first. Other times it's downright awful, with streaky text, random blotches marring the page, and blended colors.
Product:G&G Refill Kits, Black NR-T3102BK, Color NR-T3111C.M.YAvailable through various online retailers, including Castle InkCastle Ink price: Black kit $18, Color kit $28 (Total: $46)Worth trying? NoHassle factor: HighPrint quality compared with OEM ink: PoorCost per page: Indeterminate due to malfunction
The G&G Refill Kits for black and color include helpful tools such as a plastic glove, needles, and sealing tape (to cover a cartridge's filling holes).
Each kit comes with 90ml of ink in three 30ml containers. The color kit has one bottle each of cyan, magenta, and yellow, while the black kit has three bottles of black ink. The kit also has a fourth, 30ml bottle of printhead cleaner, handy for removing dried ink residue from cartridges that have been unused or left empty for long periods of time.
As with all DIY refill kits, some cartridge surgery is involved. I attached the syringe, needle, and hand spike, inserted the needle in the black cartridge's fill hole, and began injecting ink.
I'm impatient, though. The ink wasn't flowing fast enough for my tastes, so I pressed harder on the injector. Big mistake! The ink shot out the back of the syringe, blasting the walls–and me. Luckily, I was wearing glasses at the time.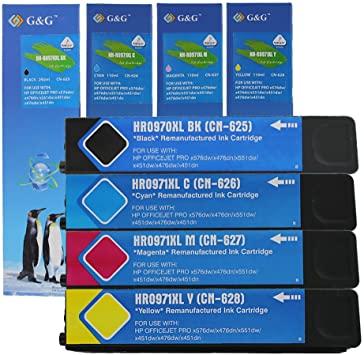 After cleaning up the mess, I (slowly) filled the black and color cartridges. G&G's instruction sheet didn't say how much ink to add to my HP 60 tanks, so I made an educated guess based on my previous refill experiences: 4ml to 5ml of black ink, and 1ml each of the color inks.
I may have added too much, however, as ink began to drip from the bottom of the cartridges. I let the tanks sit overnight on old rags before inserting them into the printer.
When I began printing, the initial output was pretty bad–inaccurate colors, smudged fonts, and random spots of black ink. But after twenty or so pages, the output returned to normal. The colors and text appeared duller and fuzzier than those made by HP's own inks. Page yield was a wash (no pun intended): I got about 48 pages total, including the first 20 that were of unacceptable quality.
Why the initial problems? I asked Castle Ink president Bill Elward, who said that cross-contamination of colors in the tricolor cartridge may have been partly to blame.
"Cross-contamination is often the result of overfilling a color cartridge, and is not always reversible depending on severity," Elward explained via email. "When a cartridge is overfilled, the excess ink comes out through the nozzles of the printhead and runs into the chamber of the color next to it, resulting in cross-contamination."
The condition of the empty tank may also be a factor, says Elward. When a cartridge is stored in a plastic bag, for instance, the wrap comes in contact with the printhead. One color may seep into another's chamber. However, after several print cycles, Elward says (and as I experienced), the problem may resolve itself.
To give the G&G kits a fair shot, I emptied and refilled the cartridges a second time, let them sit a few hours before installing them, and resumed printing. Right away, the HP printer's LCD panel posted an 'Incompatible print cartridges' message. It stopped printing, too.
Elward says the error message is usually due to the printer's inability to read the chip on the cartridge. A variety of issues may be responsible, including a smudge on the cartridge's circuitry, or a feature in the printer manufacturer's software that might be designed to reject a refilled cartridge.
I removed the cartridges, and noticed smudges where the black ink cartridge had been (the slot on the right).
Following Elward's suggestion, I unplugged the printer, shut down the computer, and waited 20 to 30 minutes. I then reconnected the hardware and rebooted my PC.
My printer started working again. Unfortunately, the print quality was as poor as ever.
I'll take the blame for the disastrous results of my first G&G Refill Kit foray. If I had been more patient, I probably wouldn't have had the splatter and leakage problems. Refilling more carefully the second time prevented most of that, but then my printer balked. In all cases, the output quality was subpar. If you want an inexpensive do-it-yourself refill kit for HP 60 cartridges, I have to say that the time I spent with the Inktec refill kit remains my best experience so far.