Epson is a reliable brand in the digital imaging and printing solutions and the company's first-ever Duplex InkTank printer, the Epson L655, has proven its expertise in the area. The all-in-one printer makes printing easy and affordable without compromising on quality.
IBTimes, India received the L655 for review purposes and we tested its capabilities over the course of time. The printer has proven to be of great value, fulfilling all high-res printing needs in the office. While it is suited for commercial purposes, the printer's price makes it suitable for home needs as well, especially if you have kids who need constant help with school and college projects.
Key features
Epson L655 is bundled with features that you will otherwise find in premium printers. The L655 has wireless capabilities to easily print documents and photos without having to sit on your connected PC. The Wi-Fi Direct is an added bonus, which connects up to four devices without requiring a router. The standard Ethernet option is also included, which we extensively tested and found it quite seamless with the connection in a closed network.
Epson L655 has automatic duplex printing, which reduces paper wastages. This feature is quite useful in corporate spaces as wastage of papers is often overlooked.
The L655 comes with Broadcast Fax and PC-fax features, which we did not have the chance to test. But it is a good addition, despite the relatively-low usage of faxes these days. The printer can also be used to scan documents and make photocopies. The L655 is truly an all-in-one machine.
Another important feature of the L655 is its refill tanks, which replaces the traditional cartridge inkjets. The refill tanks are of four colours – black, magenta, cyan and yellow.
Set up and design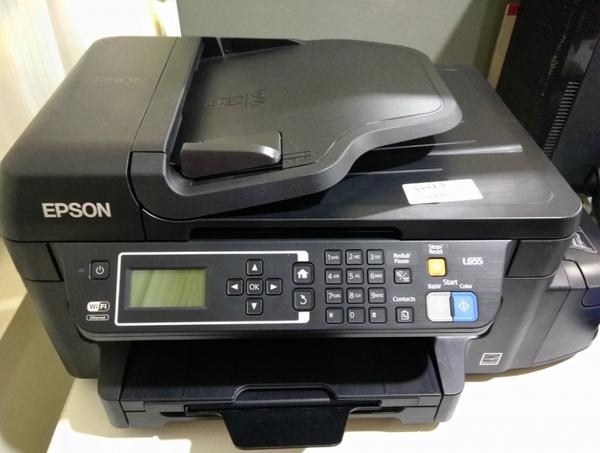 Epson L655 comes with all the necessary cables and a manual to help you complete the set up. It took us about an hour to complete the entire set up by connecting the printer to the PC and installing the Epson drivers.
Epson L655 design is pretty average and has a decent build quality. Nothing extra-ordinary there, but if it is any incentive, it takes less space and can easily sit on your work desk beside the PC.
Performance
Firstly, the quality of the prints is praise-worthy. We used normal quality A4 papers to print out samples and the images and text appear to be sharp and true to their digital counterpart. The printing quality, whether in colour or black and white, was truly satisfying.
The L655 is also quick in printing. Using a standard A4 sheet, it took us about an average of 20 seconds to get one print out. Depending on the thickness and the weight of the paper, there will be delay leading up to a minute or two.
During our entire review, there were no paper jams or overlapped printing. Epson L655 is good at what it does and it translated to an overall satisfaction to us.
On the downside, there is no indication on when the printer runs out of ink. But that's not something you cannot find out simply by opening the side tanks. Once you refill the tank, you must reset the ink levels for the printer to resume operations.
The 2.2-inch mono LCD display on the printer lets you navigate through various settings. There's no rocket science there.
Verdict
Epson L655 is priced at Rs 24,999. For the price, we find it quite useful and efficient. It is certainly good to have around at busy commercial places. If you have extra cash lying around, the L655 is also suited for home use. A word of advice here – you can get a lot cheaper colour printers online from brands like HP and Canon, but at the cost of losing some features of course.