If you do a lot of printing you should invest in a printer that offers value and quality – that printer is the Epson EcoTank ET-4850.
If you need to do a lot of printing it is wise to invest in a printer that's going to give you the best value and the best performance like the Epson EcoTank ET-4850.
The Epson EcoTank ET-4850 is a cartridge free all-in-one printer that comes with enough ink to last up to two years.
That's the equivalent of about 145 individual cartridges.
Onboard are easy to fill ink tanks which can be filled with the included ink bottles so you can print up to 14,000 mono pages and up to 5,200 pages in colour before worrying about refilling the tanks.
Unlike a regular cartridge printer, the Epson EcoTank ET-4850 will not require you to dash out to buy replacement ink cartridges to print out your child school project already important work document.
Now the Epson EcoTank ET-4850 does cost more than your regular printer – that's because there is nothing regular about it.
Many customers have been lured into buying cheap printers only to discover a set of replacement cartridges adds up to twice the price they paid for the printer in the first place.
You won't have that kind of issue with the Epson EcoTank ET-4850. It's officially priced at $649 but we've seen it priced at under $600 in stores.
This is still a competitive price when you factor in the amount of ink included with the printer.
Even if you had to buy five sets of replacement cartridges in a year, you're looking at about $600.
And you'll always need to buy replacement cartridges, so you'll end up spending even more money anyway.
The Epson EcoTank ET-4850 uses PrecisionCore heat free technology which takes advantage of a high density print chip that can generate 40 million precision dots per second to produce pro level print outs.
The Epson EcoTank ET-4850 his ideal for customers with school age children, if they have a home office or if they're running a small business. You'll never be caught short of ink again.
The printer has a relatively small footprint at 37.5cm wide, 34.7cm deep and 25.5cm tall so it's easy to find room in your home office, study or workspace.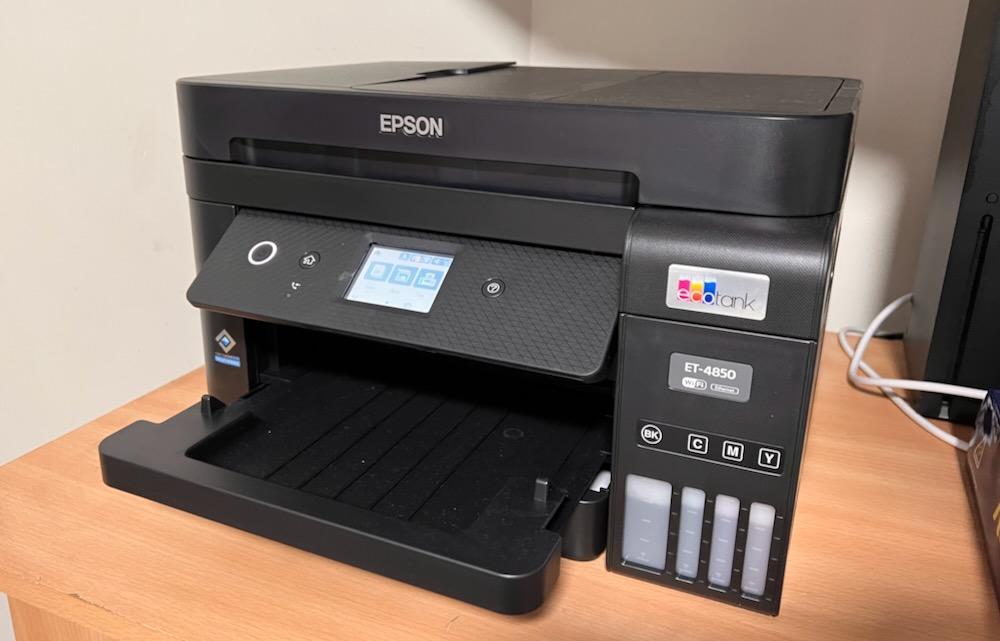 And being a multifunction printer, it can print, copy, scan and even fax.
Naturally, the Epson EcoTank ET-4850 has wireless connectivity so multiple computers can wirelessly print out their documents from anywhere on your network.
It's also possible to print from your smartphone and tablet if it's on the same network as the Epson printer.
The printer is also Apple AirPrint compatible which means it's easy to print emails, web pages, documents and presentation straight from an iPad or an iPhone with no need to download any additional software or drivers.
For this review, we used the Epson EcoTank ET-4850 to print out our podcast scripts on plane A4 paper along with colour photos on photo paper to put in frames.
The Epson EcoTank ET-4850 has a large paper tray that can fit 250 sheets along with a 2.4-inch colour touch screen which makes it easier to navigate the menu and access the features.
There's also a 30-sheet auto document feeder as well as the ability for two-sided printing and borderless printing up to A4.
Setting up the printer is simple and you're taking through the process step by step with the Epson Smart Panel app.
This process also includes filling up the ink tanks using the auto-stop spill free bottles which create an airtight connection on top of each tank.
From the app, users can print documents, cheque scanned documents, capture documents with their smartphone camera and perform maintenance like print head cleaning.
Customers can also download the Epson Creative Print app which can help you create things like calendars, greeting cards lined paper and a collage. These of course can then be printed through the Epson EcoTank ET-4850.
Quality-wise, the printer can offer a maximum print resolution of 4,800 x 1,200 dpi and can scan to a maximum resolution of 9,600 dpi interpolated.
It can handle all kinds of paper sizes including legal, letter, 8.5" x 13", A4, B5, A5, A6, B6.
You can use plain paper, photo quality inkjet paper, Epson Matte Paper and Epson Glossy Photo Paper.
The Epson EcoTank ET-4850 comes with a two-year warranty and is available now for $649.
VERDICT
If you do a lot of printing you should invest in a printer that offers value and quality – that printer is the Epson EcoTank ET-4850.