The Canon Pixma G7050 is a colour multifunctional printer with all the features you could dream of. It delivers the usual trio of printing, scanning and copying but can also send and receive faxes (remember those?).
Best of all, it's one of Canon's MegaTank printers, which offer super-low running costs thanks to huge ink tanks. These can be refilled from bottles, eliminating the need for expensive cartridges, which dramatically reduces unnecessary waste.
With so many features, options and those voluminous tanks to make space for, the Canon Pixma G7050 is a whopper of a printer. It measures 403 x 369 x 234mm (WDH) and weighs 9.6kg.
The top of the printer has a 35-sheet automatic document feeder but it's relatively compact, folding away when not in use. Even when it's open, though, it adds little to the overall height of the unit. Below is the flatbed scanner.
Image 7 of 9
The front of the device is dominated by a large control panel. This uses a simple two-line LCD display and a whole bank of buttons, including a number pad so you can enter fax numbers.
A chunky plain paper tray in the base lets you load 250 sheets of A4 paper, and you can print onto speciality media using the printer's rear feeder, which can handle 100 sheets at a time.
As befits a printer that has it all, there are also plenty of connection options. There's a USB port on the back for direct connections to a PC and the necessary RJ-11 phone ports to connect the fax to a phone line and pass through to a wired phone handset. You can also print from more computers and mobile devices using its Wi-Fi network, or hook it up to a wired network using Ethernet.
READ NEXT: Canon Pixma G3501 review
Filling the printer with ink is reasonably straightforward. It comes with three bottles of black ink (one for now and two spare) and one each of cyan, magenta and yellow. Lift the lid off the printer and you can access the ink tanks, which are all clearly labelled but you need to give the bottles a squeeze to empty them. It's relatively straightforward but not foolproof, with no system in place to stop you putting ink in the wrong tanks, other than that clear signage.
Image 2 of 9
See related Best printer 2022: The best inkjet and laser printers to buyBest printer deals 2021: Our favourite discounts on inkjet, laser and all-in-one printers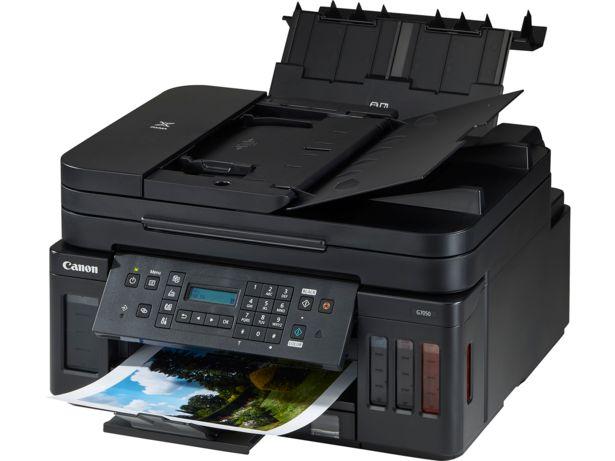 Once you've filled with ink, however, it's plain sailing to get the printer set up on your PC and other devices. I like the way Canon handles PC installation. It guides you to its setup website and walks you through every step, from ripping off the blue packing tape to installing the latest drivers. Videos and plenty of detail is available if you need it but competent users can get through the process quickly and smoothly.
When it's set up, every standalone function on the printer is controlled using its two-line LCD screen and four buttons (back, left, right and OK), which sounds woefully inadequate but actually works reasonably well. It's a tad cumbersome and a touchscreen would certainly make life easier than scrolling through one text option at a time but it's easy enough to get used to. The whole panel tilts up, so you can operate it from a seated or standing position.
In terms of print quality, the Canon Pixma G7050 is consistent with other Canon MegaTank printers we've reviewed. Print quality, which can be up to 4,800 x 1,200dpi, is good but it's not as high quality across the board as the best cartridge printers, such as the Canon Pixma TS8350. It's good at printing in mono, with clear, sharp text. However, photos don't come out as well as the TS8350's, with blacks printing with a bit of a red tint to them, and colours not appearing as strong and bold.
Scanning, on the other hand, is excellent. Some printers loaded with office-like features limit the scanning quality to be just good enough to copy a document, but the G7050 has a decent maximum resolution of 1,200 x 2,400dpi and it produced a good-quality scan of our test photo, capturing plenty of detail and good colour.
We can forgive the Canon Pixma G7050 a slight drop in print quality compared to cartridge-based models because of its extraordinarily good-value running costs. Once you've emptied the tanks – and that will take a while, with the provide three black ink bottles delivering 18,000 pages and the three colour bottles 7,700 pages each – replacement ink costs just 0.2p per mono page and 0.4p for colour.
Image 9 of 9
This is essentially the same price as all of Canon and Epson's tank-based printers, but that doesn't take anything away from what phenomenally good value this is.
The same rule that applies to print quality also applies to speed. It isn't the fastest inkjet but it's not so far off the mark that it detracts from the price of its prints. From standby it produces a single page of mono printing in 14 seconds, which is about average for an inkjet.
It plodded steadily through the rest of our test prints, reaching 10.4ppm in mono and 2.4ppm in colour. Duplex printing drops this to 1.6 colour sides per minute, as there's a wait time while the first printed side dries out for a few seconds before it's pulled back in to print on the back.
It's reasonably nippy at making copies, though, with a mono copy taking 16 seconds and a colour copy appearing in 31 seconds. Scanning, too, is achieved at a reasonable if not exceptional speed. In all our speed tests, the printer was uniformly average, neither a hare nor a tortoise.
READ NEXT: Canon Pixma PRO-200 review
With all its extras, the Canon Pixma G7050 sits near the top of Canon's MegaTank price list, and justifiably so. The fax capability is perhaps the most questionable of these in our age of digital communications but, if you need it, then it's here ready for you. Take it away, however, and look further down the range, and you might find everything you need for less in other models, such as the G6050.
Those who want to print lots of photos at the best possible quality still need to opt for a cartridge-based printer, such as the Canon Pixma TS8350. If you're determined to go for a tank-based model, however, then the Epson ET-2750 made a better stab at photo printing, but isn't as strong as the G7050 at printing general colour documents, particularly when printing double-sided.