Know a printer feature you must have? Want access to thousands of customer reviews before you buy? Check out Amazon's extensive collection of printers for all price ranges.
Look Now
From grocery coupons to essays for your English class, there are an endless number of reasons why you might need the convenience of an in-home printer. And with recent advancements in printer technology, you won't need to scrimp and save with your favorite budgeting app to afford a high-quality in-home printer.
There are plenty of affordable printer models available online — you just need to find a model that fits your needs.
Thinking about buying a printer to add to your home or office? Check out our quick printer buying guide and our favorite printers under $100.
Best Cheap Printers:
Contents
Our Top Picks for Affordable Printers
Picking Your Printer
Key Features of a Cheap Printer That'll Last
One of the best ways to save money when you buy electronics is to choose a quality model that will last will be cost-efficient to operate over time. Unfortunately, not every printer is of the same quality, especially when you're working at a lower price point. Look for these key features when you shop for a low-cost printer to make sure that you're getting a quality model.
There are 3 major types of ink cartridge configurations for in-home printers:
Inkwell printers are much less expensive to operate in the long run because you can refill the wells without buying a new cartridge every time. However, they do cost a bit more when you're starting out. Consider opting for an inkwell model to save money over time.
Today's printers have a much higher page per minute (PPM) output than those in the past. Look for printers with a PPM of at least 5 — especially if you plan to frequently print long books or manuals.
Whether you're a student or a young professional, you probably do a lot of your work on a laptop. It can be annoying to connect and configure your laptop every time you need to print a graph, report or paper if you don't have a standard desktop setup in your home.
Luckily, many of today's affordable printers also include Wi-Fi or Bluetooth connectivity as a standard feature in addition to traditional USB port connections. Only plan to print from a single, immoveable computer? You can save a few dollars by choosing a model that doesn't offer wireless printing.
Sure, every printer on the market will be able to print out your resume on sheets of 8.5-inch by 11-inch paper — but what about index cards, legal envelopes, glossy photos or wedding invitations? Look for a printer that offers 2 separate trays for different paper styles.
If you only need to print on standard paper, look for a large paper well that can hold at least a few months' worth of paper. As everyone knows, the paper always runs out at the worst possible moment.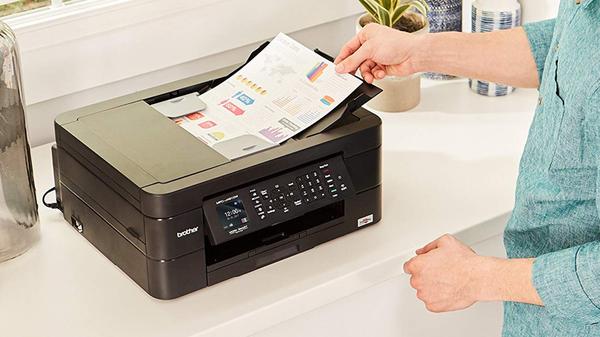 Chances are that you'll need a scanner as well as a printer if you plan to use your printer for school or work. Many printers now double as a scanner and most models open through the top of the printer and allow you to directly scan textbooks, papers or forms.
If your printer also has Wi-Fi capabilities, you may also be able to scan a file and send it to your computer from across the room. Otherwise, you'll need to plug your printer to your computer to get your files.
Our Top Picks for Affordable Printers
We've rounded up some of our favorite affordable printer models. Each one is available for less than $100 and can be delivered straight to your home or office.
The HP Envy 5540 is a sturdy and small model that will easily fit in any space, from a tiny college student's desk to a modern open-air office space. The Envy 5540 features wireless printing capabilities and you can even connect with your printer through your smartphone.
This model also features a unique quiet printing mode, which makes it the ideal companion for both crowded areas and secluded studies. Compact, quiet and very affordable, the HP Envy 5540 is an excellent starter printer if you're not sure which features you'll use the most.
Get it now
Do you have a home office? Chances are, space on your desk is at a premium. The Epson XP-340 is an exceptionally affordable, lightweight model that will find a perfect home in most residential offices.
Featuring an easy-to-navigate touchscreen that allows you to quickly switch settings, wireless capabilities that enable users to print from connected smartphones and a convenient scanner built directly into the top of the printer, this model from Epson is perfect for any home office.
Get it now
Okay, this model from Brother isn't quite under $100 — but as any experienced printer shopper knows, affordable and laser don't usually go together in the same sentence.
The HL-L2350DW is a compact laser printer that features wireless connectivity and a lightning fast 32 PPM printing speed.
You can even activate the printer's Amazon Dash feature, which automatically orders new ink cartridges when you start running low. If you've always wanted to try a laser printer without spending $400 or more, this model from Brother is right for you.
Get it now
The image CLASS LBP6030w features a unique space-saving design that makes it easy to fit almost everywhere. At less than 15 inches wide and 10 inches long, you can even put it on your kitchen counter.
Though this model from Canon only prints in black and white, it can quickly print essays, reports and anything else with speed and ink efficiency. It's also got a very powerful Wi-Fi signal that can be activated from virtually anywhere in the room — perfect for home offices.
Get it now
Another outstanding and affordable model from HP, this printer is a powerhouse, packing multiple features into a single compact printer.
The Canon Pixma MG2522 can print, copy and scan and takes up less space than a breadbox. It also offers wireless printing and AirPrint as well as an exceptionally affordable price.
Get it now
Picking Your Printer
Choosing a printer isn't a simple decision. You need to decide exactly how you want to use your printer and which features you're willing to splurge on.
Don't be afraid to shop around both online and in stores before you commit to a model, and always remember to measure the space where you want to put your printer before you make a final decision.
Building out your office space? Don't break the bank to get quality gear. Check out our top picks for the best monitors to double your work area, best desks for stationing your equipment, and the best laptops if you're looking to upgrade.
Frequently Asked Questions
Q 1 What printer is the easiest to maintain?asked Sarah Horvath A1
The more noteworthy printers include Cannon Office & Business MX922, the HP OfficeJet 4650 and Brother MFC – J460DW.
Q 1 What are the lowest-cost printers I can buy? asked Sarah Horvath A1
TheEpson Expression Home XP-2100, the HP LaserJet Pro M15w and the HP Deskjet 2622 are a few of the most cost-efficient printers.